Our Lady of Muswell School Blog
admin on: Our Lady of Muswell School Blog
Dear Parents, carers and staff
Castle water were carrying out works at the weekend and have left the school with no water pressure. We are therefore not able to open the school until the situation is resolved.
We apologise for the inconvenience and will update everyone as soon as we have more information from the engineers.
Many thanks for your cooperation and understanding
Mrs McNicholas
Headteacher
---
A recipe for success!
At our first assembly of the year, children from year 1 to year 6 created a recipe for success. We thought about what we needed to have in our school cake to ensure success and happiness throughout the year. The children's wonderful imaginations shone through and they came up with a real recipe for success!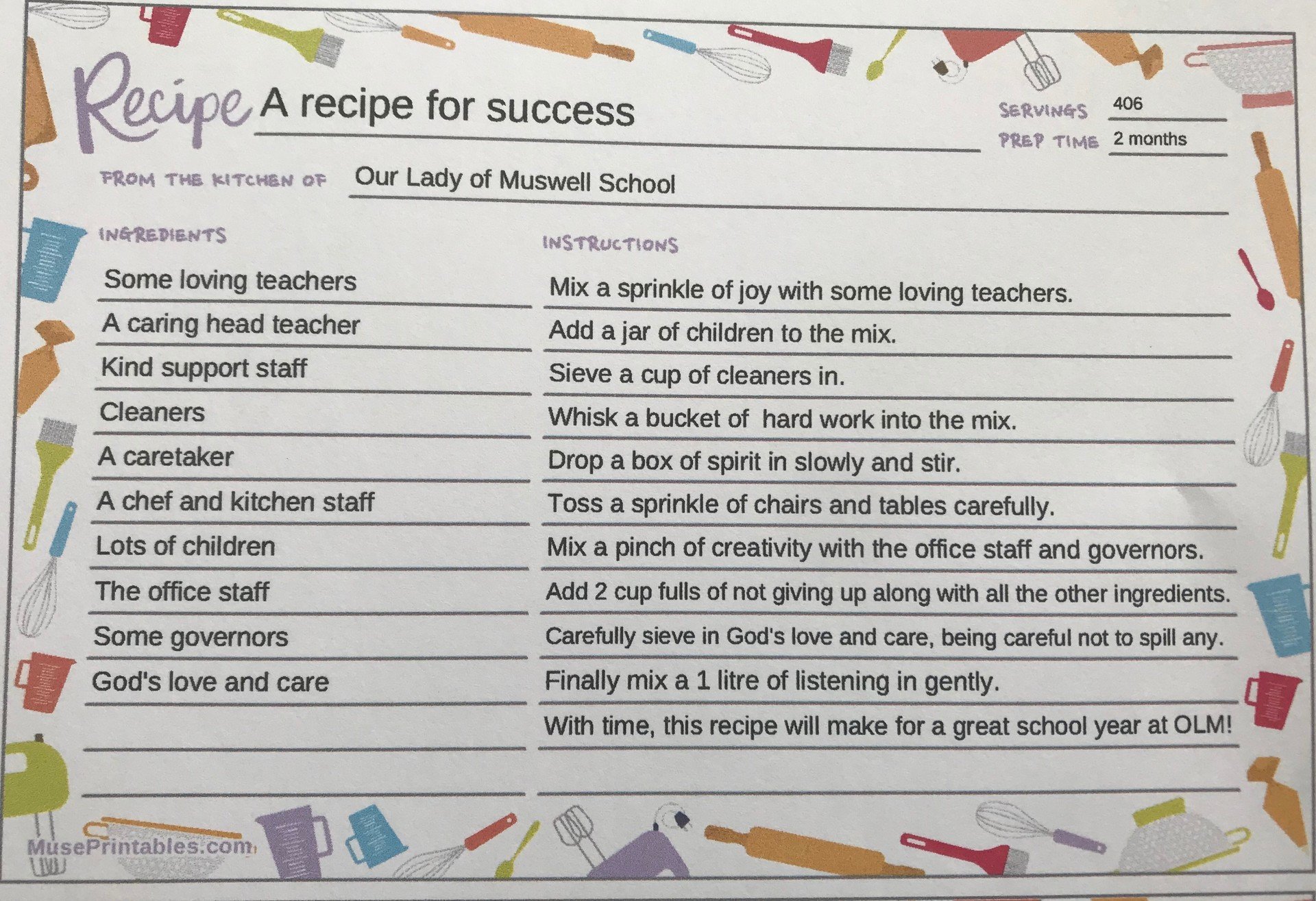 Happy holidays!
We would like to thank all our families and the OLM community for your support this year. We have had another fantastic year at OLM and look forward to new adventures in September. Here's our OLM flash mob dance video...a little reminder of the fun we had earlier this year!
Class attendance winners!
Well done Y1M and Y5Y for having the best attendance all year! Today they received their prizes from Aquinas Education. Thank you Aquinas Education for helping get our children to school every day!
Attendance winners!
Congratulations to Jayden, Aurelia and Carolina who were winners in our 100% attendance draw! Well done on getting to school every day this year. The received some vouchers from Sam and Aquinas Education as a reward! Thank you Aquinas Education for helping get our children to school.
Sports Day winners!
Congratulations to the GREEN team who were the overall winners at Sports Day this year. Well done!
Blue team are the winners!
Congratulations to the blue team who are the winners of the house points competition this year. They enjoyed an afternoon of ice-cream, playground games and had the privilege of wearing their own clothes on Wednesday. Well done Blue team!
Sports Day
Today we celebrated Sports Day! The children and adults had a fantastic morning in the sunshine talking part in lots of different events. The winner of Sports Day will be announced at a very special assembly on Monday!
OLM Music concert.
watch the highlights of our music concert held on July 9th here! We are so proud of the incredible talent across our school.
Our Lady of Muswell School Blog
admin on: Our Lady of Muswell School Blog
From January 23rd to 27th OLM will celebrate a Health week. The children will be taking part in lessons and workshops about how to stay healthy and the importance of exercise and fitness.
If you work in the health sector and would be willing to come into school and talk to your child's class/year group we would love to hear from you. Maybe you could share what a typical day in your job is like, how you ended up choosing your career/working in the health sector and share some tips on healthy lifestyles. If you are feeling very brave and you are a fitness expert maybe you could engage the children in a workout!
Please let Mrs Galvin know if this is something you would be interested in.
---
admin on: Our Lady of Muswell School Blog
This morning at assembly the children were very excited to welcome Jermaine Jenas to school. He spoke about his footballing career and told the children how being on time for training, always trying his best and doing more than the expected helped him to achieve his dream. Through his work with the Aquinas Foundation Jermaine launched our "Get to school on time" campaign which will see children and classes who are on time everyday rewarded - the class with the best punctuality and the top three children with the best punctuality will receive very special prizes in July.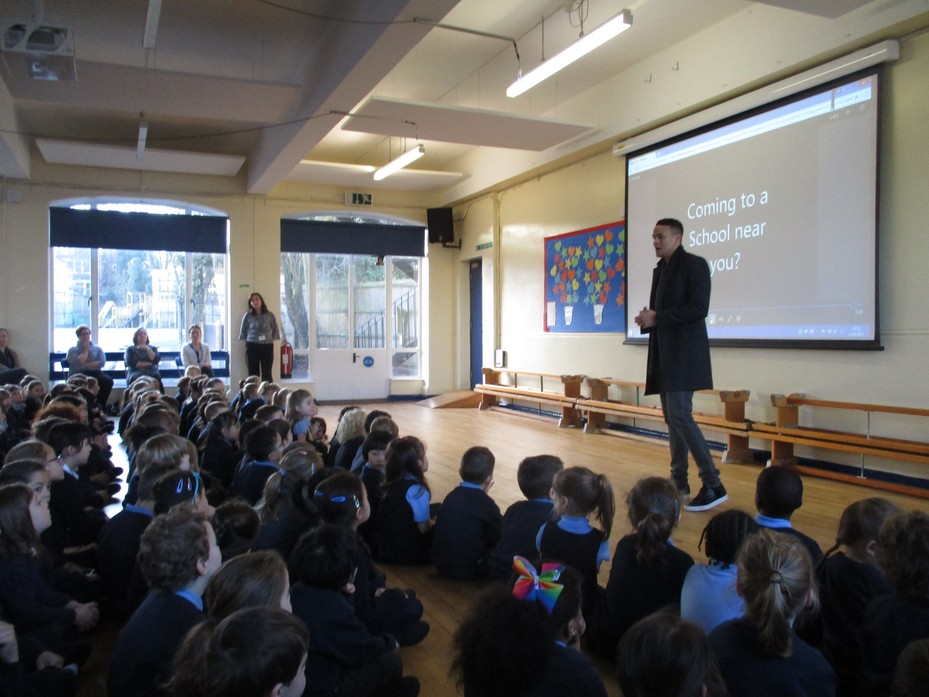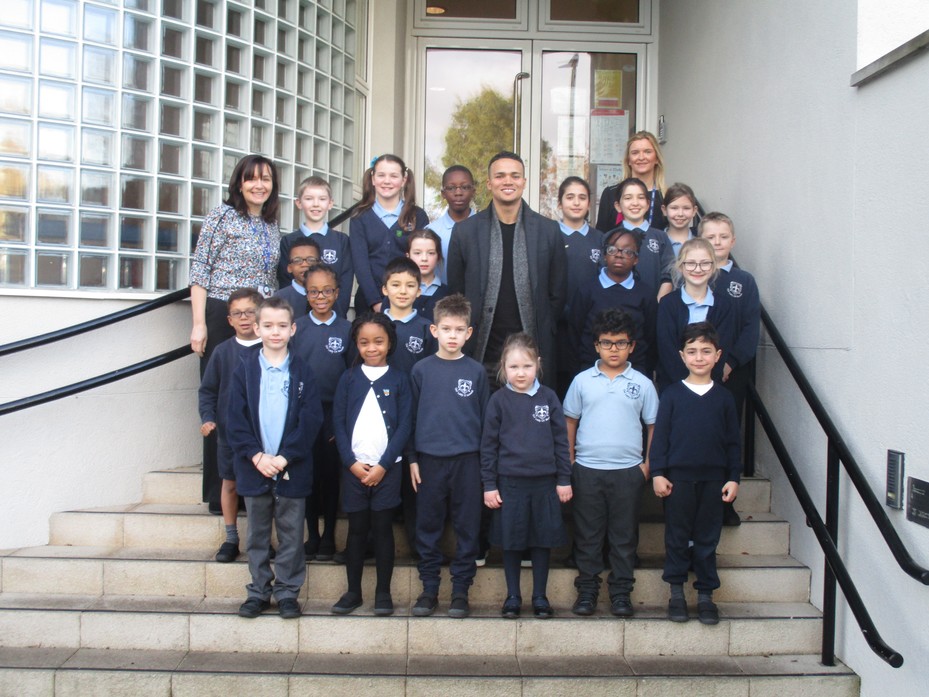 ---
admin on: Our Lady of Muswell School Blog
We are very excited to announce that OLM has a Patron of Reading! Polly Faber, author of the Mango and Bambang series of books about a girl and a tapir, spoke to the children at a special assembly this morning. The aim of the Patron of Reading scheme is to raise the profile of reading for pleasure with pupils, parents and staff. We are really looking forward to Polly becoming a familiar face around school in the coming months!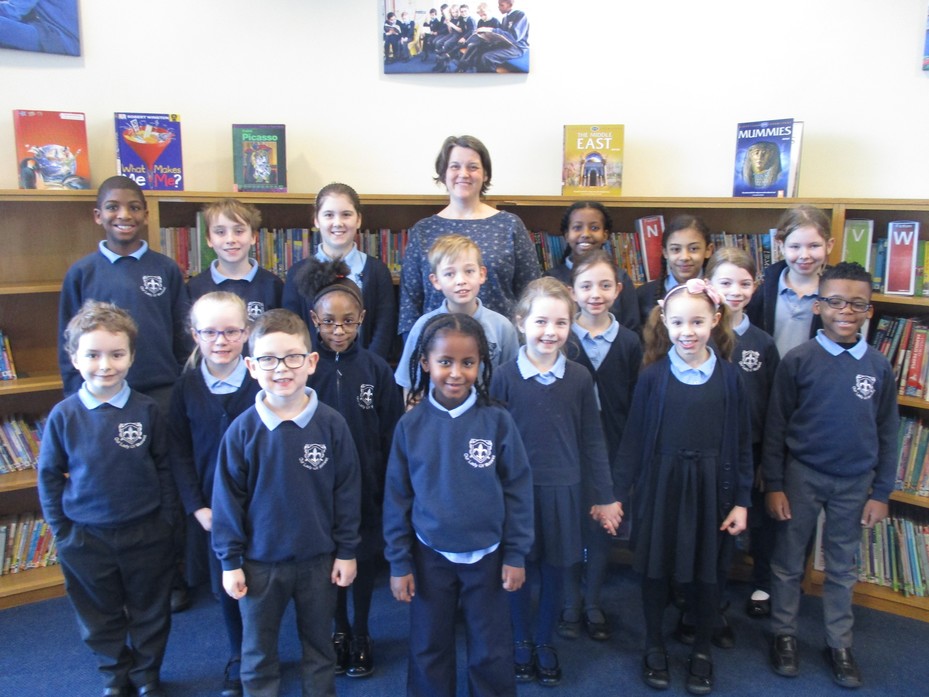 ---
admin on: Our Lady of Muswell School Blog
Welcome Back ! We hope you enjoyed a wonderful Christmas with friends and family. We look forward to welcoming all the children back for the start of the new term
---
admin on: Our Lady of Muswell School Blog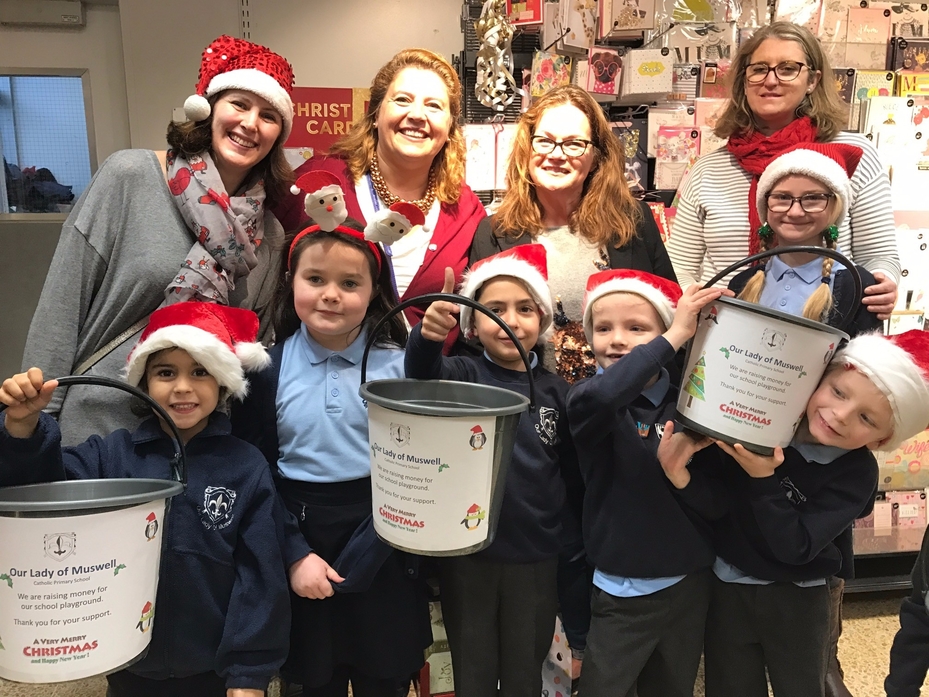 Thank you to the wonderful FOLM who gave up their Sunday to pack bags at M&S to raise funds for our playground
---