Y3 Curriculum Information
Term: Spring 2023
Home Learning
Maths home learning is set on a Monday, and to be completed before Wednesday.
English home learning is set on a Thursday, and to be completed before Monday.
Maths
Chapter 5 Length
This chapter looks at length in metres and centimetres before moving on to kilometres. Children will learn to measure different items using centimetres, metres and kilometres. They will also be able to convert different units of measurement as well as compare different lengths.
Chapter 6 Mass
The chapter begins with measuring mass using scales. Children look at different units to measure mass, specifically grams and kilograms. They will become well-versed in reading weighing scales that have different values for each marking. Once raw skills are achieved, pupils will attempt basic word problems which will extend to more challenging word problems.
Chapter 7 Volume
This chapter introduces volume and capacity. Children will learn to measure volume using millilitres and litres. They will also come across various problem-solving questions on volume and capacity.
Chapter 8 Money
This chapter allows children to consolidate previous learning on recognising different denominations (both notes and coins) and the simple addition and subtraction of money. Children are then expected to apply their new knowledge to solve word problems.
Chapter 9 Time
Children begin this chapter by telling the time using 'a.m.' and 'p.m.', telling time to the minute, using analogue and digital time, and telling time by using both the minute and hour hands. Children then learn to use the 24-hour clock and clocks using Roman numerals. After this, children are measuring and comparing time in seconds, minutes and hours, and finding start times and end times. Children will then complete the chapter by converting units of time and then finding a number of days in lengths of time.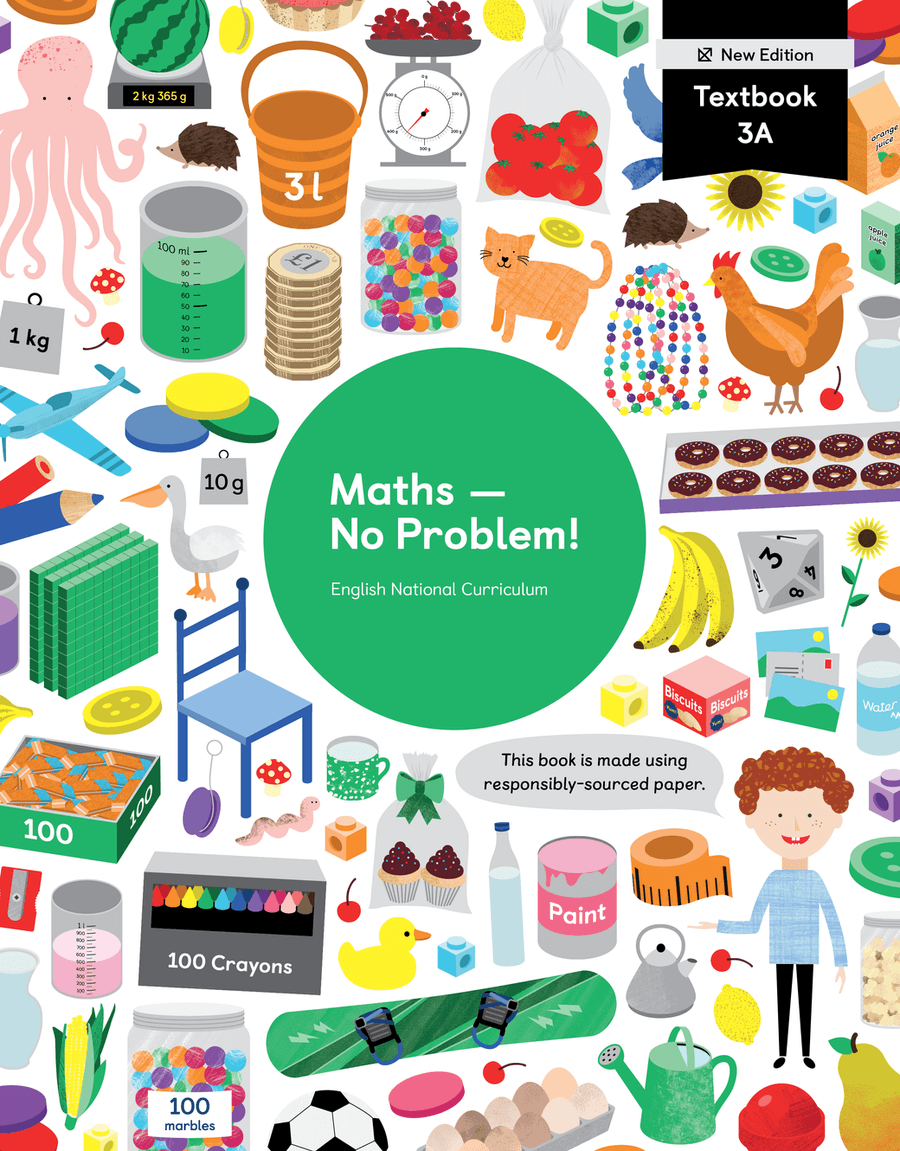 English
One Plastic Bag
Author: Miranda Paul
Illustrator: Elizabeth Zunon
The true story of Isatou Ceesay who saw the problem that the proliferation of plastic bags was causing in her country, the Gambia, contaminating the environment and killing the goats that swallowed them. She collaborated with other local women to crochet thread made from the plastic bags to create purses resulting in a thriving trade and reducing pollution. The illustrator grew up in West Africa and has used colourful papers and leftover shopping bags in the creation of her pictures.
Leon and Bob
Author: Simon James
Illustrator: Simon James
Leon has an imaginary friend called Bob. A new family moves in next door and Leon makes friends with the child whose name is... you guessed! A sensitive and beautifully placed story which has great emotional depth and in which words and pictures work intimately together. A key moment occurs when Leon mounts the long stairs to the neighbours' house and turns round to find 'Bob' isn't there any more.
A Nest Full of Stars
Author: James Berry
Illustrator: Rachel Merriman
In A Nest Full of Stars, James Berry will take you on a memorable trip through all the startling, humorous, sad, happy, painful, and joyful experiences of growing up. Here are birthdays and fireworks, quarrels and making up, and every sort of mood you can imagine. Here are the hills and valleys of friendships and family life. Here is a boy on a train, trying to make all the adults look at their watches. Here is a girl discovering the miracle of her hen's hidden nest of eggs and seeing it change into "a mighty nest full of stars." Most of all, here are poems that awaken us to the magic and mysteries all around.
RE
Topic 4 - Journeys
The experience of community is an essential and enjoyable part of life for people of every age and faith. The cycle of a year and the span of a lifetime contain occasions for regular celebrations as well as unexpected surprises, when people want to celebrate with family, friends and communities.
Topic 5 - Listening and Sharing
In this topic, we explore listening and sharing with one another. We also learn about listening to the Word of God and sharing in Holy Communion.
Topic 6 - Giving All
Life, especially family life, or life in school, is full of opportunities for self-giving. Life is a cycle of being cared for and caring for others, of dependence and independence, of receiving and giving. Self-giving is essential if individuals and relationships are to grow and develop.
History
Spring 1 - Indus Valley Civilisation
How do we know about the Indus Valley Civilisation?
Spring 2 - Persia and Greece
What did Greek city-states have in common?
Geography
Spring 1 - Settlement and Cities
How are settlements similar and different?
Spring 2 - Agriculture
How are we connected to farmers?
Science
Spring 1 - Light
Spring 2 - Animals including Humans
Computing
Spring 1 - Handling Data
Spring 2 - Information Technology: Presentation Skills
Art and DT
Spring 1 - Digital World - Electronic Charm
Spring 2 -
Music
Spring 1 - Pitch
Spring 2 - Singing Games
PE
Spring 1 - Dodgeball and hockey
Spring 2 - Football