Curriculum Information
TERM: Spring
Home Learning:
English home learning is sent out on Monday and is due back on the Thursday. Spellings will be sent home at the beginning of each half term and tested weekly.
Maths home learning is sent out on Thursday and is due back on the following Monday.Every other week children will complete a task on 'my maths'. They should practise their times-tables and rapid recall targets on a daily basis.
As Year 4 will be taking the multiplication tables check (MTC) this year, please can you ensure that times-tables are practised everyday. https://www.gov.uk/guidance/multiplication-tables-check-development-process
Tasks are designed to support the learning taking place in class. Please work with your child to complete the activities, but please don't do it for them! We encourage the children to try their best, even if they might make mistakes.
Learn at home- click on the links below:
http://www.bbc.co.uk/education/subjects/zv48q6f
http://www.topmarks.co.uk/maths-games/7-11-years/ordering-and-sequencing-numbers
https://www.mymaths.co.uk/index.html
PE Days:
Y4R - Wednesday and Friday
Y4M - Wednesday and Friday
Children must have a full PE kit in school everyday. Please make sure all items are labelled. If your child does not have a PE kit in school they will be given one to wear for the lesson and a letter will be sent home to let you know.
RE:
We follow the 'Come and See' scheme of work. Each topic lasts for four weeks. We begin by exploring what each topic means to us before moving on to how it relates to religion and the gospels. During the year we also learn about other faiths. At OLM we focus on Judaism and Islam. This is a brilliant way to teach respect for our community as a whole, regardless of cultures and beliefs.
Topic 4:Community
Each one of us belongs to a number of different communities, e.g. our family community, the school community, the area where we live etc. A parish is a Christian community in a local area our families and the school community are part of that wider community. During the topic we will explore all these communities and what it means to be a part of them.
Topic 5: Giving and receiving
When we celebrate the Eucharist Jesus gives himself to us in Word and Sacrament. We are called to follow the example of Jesus by giving ourselves to others in the world. In the Concluding Rite we are sent out to continue the work of Jesus. We will reveal that The Eucharist challenges and enables living and growing in communion.
Topic 6: Self discipline
We will start this topic by remembering that Lent is a time to remember Jesus' total giving. Lent is part of the Liturgical Year when people unite themselves with Christ in order to grow in self-discipline through the practices of prayer, fasting and almsgiving. We celebrate growth of new life in Christ, in preparation for the feast of Easter.
Throughout the year, OLM focuses on different elements of Catholic Social Teaching (CST). Each month we look at a different value and discuss what each one means:
September- We are Called to Live as Family and Community
October- Rights and Responsibilities
November- Promotion of Peace
December- No CST- focus on Advent
January- Solidarity
February- An Option for the Poor and Vulnerable
March- The Dignity of the Human Person
April- No CST- focus on Lent
May- The Dignity and Rights of Workers
June- We are Called to Stewardship
July- Recap
English:
The Wind in the Willows: a classic novel by Kenneth Graham which follows the adventures of the anthropomorphic animals Mole, Rat, Badger, Toad, and their friends. We will be reading this story over the first half term, making links to our wider curriculum topics. This topic will cover a range of reading, and writing objectives for year 4. (see below)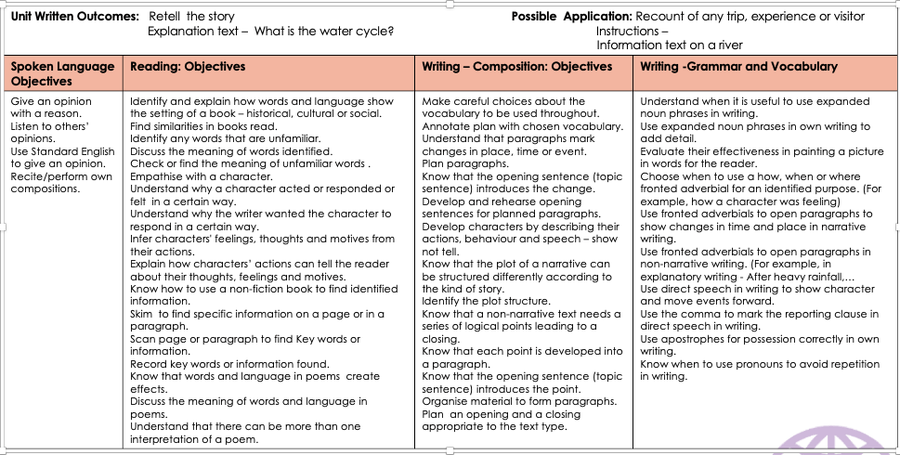 Year 4 Grammar and Punctuation includes:
Adjectives, adverbs, fronted adverbials, verbs, nouns (common and proper), conjunctions (causal & time) possessive and contracted apostrophes, complex sentences (main and subordinate clauses), commas, direct speech and pronouns.
Reading
We encourage children to read for pleasure at home and school. Please encourage your child to read for at least 15 minutes a day and spend time discussing the books they are reading and the authors. We will begin a new teaching pedagogy called 'Destination Reader' Destination Reader:
Provides a systematic approach to the teaching of reading across KS2

Enables children to develop key strategies which deepen their understanding of texts

Develops children's motivation to read broadly for pleasure and purpose

Increases children's ability to lead their learning through the acquisition of key learning behaviours

Places children at the centre of a formative approach to assessment in reading

Provides a replacement to Guided Reading
Maths:
At OLM we use the Maths No Problem teaching scheme. This scheme focuses on mastery of different mathematical concepts.
Pupils should know times tables 1-12 by the end of Year 4
Graphs - In this chapter, pupils will learn how to interpret picture graphs and bar graphs. They will be introduced to line graphs and how they are used to measure change over time. They will interpret line graphs and use information collated in a table to draw a line graph. Pupils will make predictions based on trends identified in data.
Fractions - In this chapter pupils will be introduced to hundredths. They will learn about mixed number fractions and improper fractions. They will learn how to convert between mixed numbers and improper fractions. They will learn how to add and subtract fractions and will solve addition and subtraction word problems.
Time - Pupils will learn about the 24-hour clock. They will learn how to use both the 12-hour clock and the 24-hour clock. They will convert between units of time, such as minutes and seconds, and hours and minutes. Pupils will learn how to solve time problems involving conversions and will calculate durations of time in relation to word problems.
Wider Curriculum:
Science:
Spring 1 - States of Matter, during this topic we will:
compare and group materials together, according to whether they are solids, liquids or gases.

observe that some materials change state when they are heated or cooled
measure or research the temperature at which this happens in degrees Celsius (°C)
identify the part played by evaporation and condensation in the water cycle
associate the rate of evaporation with temperature
Spring 2 - Sound, during this topic we will:
Identify how sounds are made, associating some of them with something vibrating

Recognise that vibrations from sounds travel through a medium to the ear

Find patterns between the pitch of a sound and features of the object that produced it

find patterns between the volume of a sound and the strength of the vibrations that produced it

recognise that sounds get fainter as the distance from the sound source increases.
Georgraphy
Spring 1: Why are most of the world's rivers located by rivers?
During this topic we will learn:
how a river is formed
the geographical vocabulary associated with rivers, including source, mouth, estuary, meander, tributary
the difference between the upper, middle and lower courses of a river
the names and location of many famous rivers in the UK and the world
how waterfalls are formed and what an oxbow lake is
what erosion and deposition are in relation to rivers
why many cities are situated next to a river
History:
Spring 2: We will be looking at a significant change to Britain from 1066 to present day.
Art:
In Art we will be learning how to bring our rivers drawings to life using a range of different materials, from pencils and pens, to salt and watercolours!
DT:
In DT we will be learning different techniques for changing the colour of fabrics during this exciting textiles unit
Computing:
The children will be developing their information technology skills by creating their very own online blog about their chosen subject!
E-safety - Don't forget that we should all try be Super Digital Citizens to ensure that everyone can post, share, play, create, explore and learn online! We need to be help everyone be safe, responsible and respectful online, and help others make good choices.
https://www.youtube.com/watch?v=S7A2n1c3UiA
PE:
This half term Year 4 will have one lesson taught by our PE coach, Tommy.
In their other PE lesson they will be focusing on dance
French:
In Year 4 we have weekly french lessons with Ms Louzanne.
Music:
Y4R will be learning how to play to the guitar (Thursday afternoons) and Y4M will be learning to play trumpets and clarinets (Friday afternoons). Children will learn how to read music, about rhythm, notation, pitch, length of musical notes, note names and will have the opportunity to perform at a half termly concert. Please check your emails for concert dates.