Our Lady of Muswell School Blog
admin on: Our Lady of Muswell School Blog
Dear Parents, carers and staff
Castle water were carrying out works at the weekend and have left the school with no water pressure. We are therefore not able to open the school until the situation is resolved.
We apologise for the inconvenience and will update everyone as soon as we have more information from the engineers.
Many thanks for your cooperation and understanding
Mrs McNicholas
Headteacher
---
A recipe for success!
At our first assembly of the year, children from year 1 to year 6 created a recipe for success. We thought about what we needed to have in our school cake to ensure success and happiness throughout the year. The children's wonderful imaginations shone through and they came up with a real recipe for success!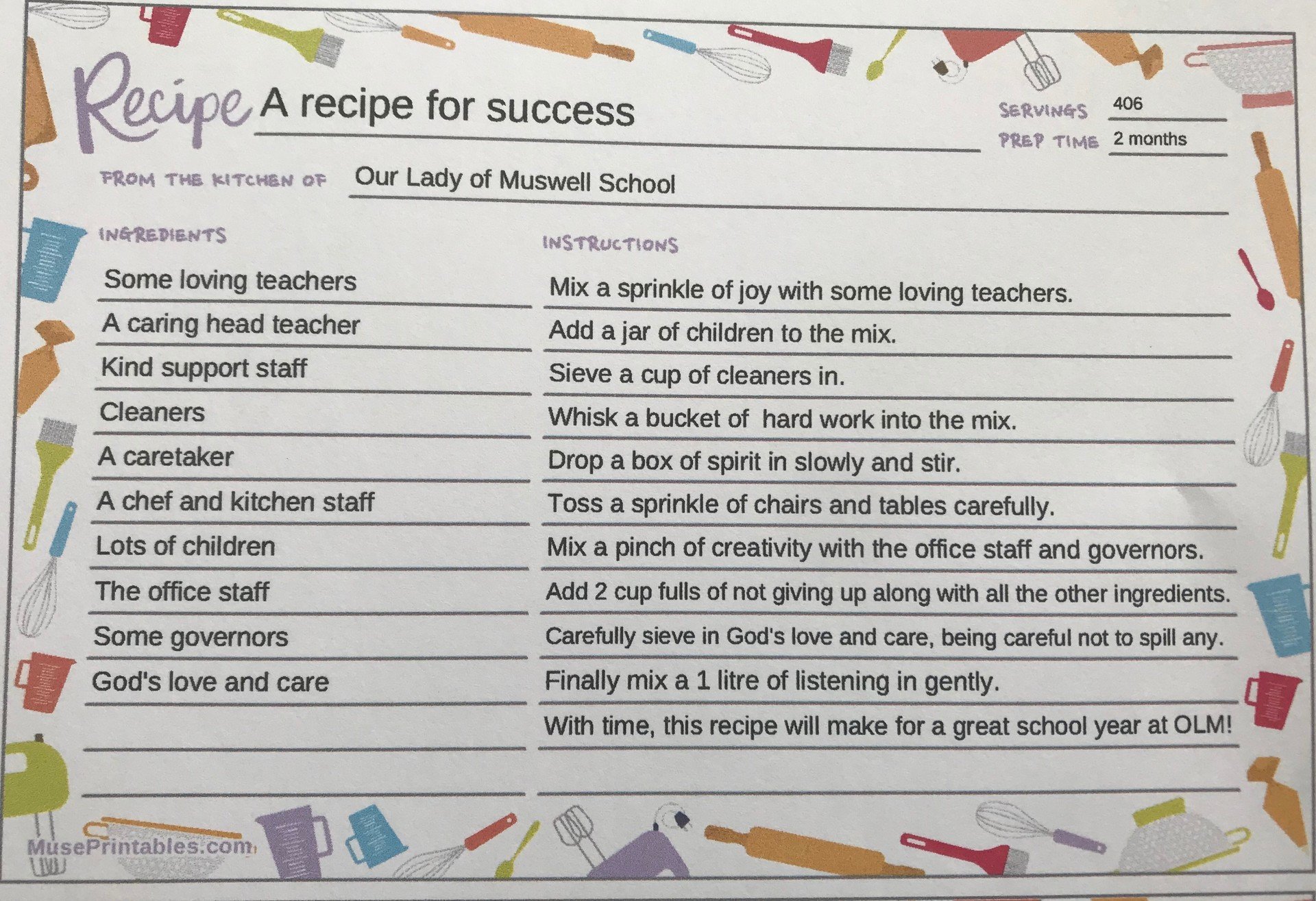 Happy holidays!
We would like to thank all our families and the OLM community for your support this year. We have had another fantastic year at OLM and look forward to new adventures in September. Here's our OLM flash mob dance video...a little reminder of the fun we had earlier this year!
Class attendance winners!
Well done Y1M and Y5Y for having the best attendance all year! Today they received their prizes from Aquinas Education. Thank you Aquinas Education for helping get our children to school every day!
Attendance winners!
Congratulations to Jayden, Aurelia and Carolina who were winners in our 100% attendance draw! Well done on getting to school every day this year. The received some vouchers from Sam and Aquinas Education as a reward! Thank you Aquinas Education for helping get our children to school.
Sports Day winners!
Congratulations to the GREEN team who were the overall winners at Sports Day this year. Well done!
Blue team are the winners!
Congratulations to the blue team who are the winners of the house points competition this year. They enjoyed an afternoon of ice-cream, playground games and had the privilege of wearing their own clothes on Wednesday. Well done Blue team!
Sports Day
Today we celebrated Sports Day! The children and adults had a fantastic morning in the sunshine talking part in lots of different events. The winner of Sports Day will be announced at a very special assembly on Monday!
OLM Music concert.
watch the highlights of our music concert held on July 9th here! We are so proud of the incredible talent across our school.
Our Lady of Muswell School Blog
admin on: Our Lady of Muswell School Blog
Today we celebrated our Year 5 Liturgy. Father Mark led us in prayer and shared the gospel reading about Jesus' baptism. The theme of the liturgy was 'Helping Hands' - the children sang and read beautifully. Thanks to all the parents and carers who attended.
---
admin on: Our Lady of Muswell School Blog
A team of teachers chalked up victory at the OLM quiz to extend their impressive record as champions.
The quizmaster tested participants on their knowledge of a diverse range of trivia and we were also treated to a lovely homemade curry. We would like to thank FOLM for organising such an entertaining evening.
Which team of parents will step up to the challenge of ending the teachers' winning run?
---
admin on: Our Lady of Muswell School Blog
At OLM, we believe our role is to educate the "whole" child and that the spiritual growth of our children is as important as their academic development.
Work has been undertaken in class to raise awareness of spiritual issues and to encourage the children to think for themselves and consider important questions. This work has been supplemented by our Year One Liturgy and Mr O'Shannessy's assembly.
Spirituality week has been anticipated and enjoyed by staff and children alike. Its success can be attributed to careful planning and resourcing by Miss Haugh and we would like to thank her for her hard work and commitment.
---
admin on: Our Lady of Muswell School Blog
We are keen to take our children on educational visits .Our Year 3 children have recently been to St Albans and our Year 2 children visited St Paul's Cathedral and The Monument. Both visits are examples of informal learning environments - a lifelong process in which individuals acquire attitudes, values, skills and knowledge from daily experience.
---
admin on: Our Lady of Muswell School Blog
It has been a busy few days! Year 1 had a visit from a vet, which the children found extremely informative and enjoyable. Next week, Year 4 will be working with the Wild Science Company to develop their knowledge of food chains during a hands on fun packed morning. We welcomed Headteachers from local schools to see the excellent RE programme and to share our good practice.
---