Our Lady of Muswell School Blog
admin on: Our Lady of Muswell School Blog
Dear Parents, carers and staff
Castle water were carrying out works at the weekend and have left the school with no water pressure. We are therefore not able to open the school until the situation is resolved.
We apologise for the inconvenience and will update everyone as soon as we have more information from the engineers.
Many thanks for your cooperation and understanding
Mrs McNicholas
Headteacher
---
A recipe for success!
At our first assembly of the year, children from year 1 to year 6 created a recipe for success. We thought about what we needed to have in our school cake to ensure success and happiness throughout the year. The children's wonderful imaginations shone through and they came up with a real recipe for success!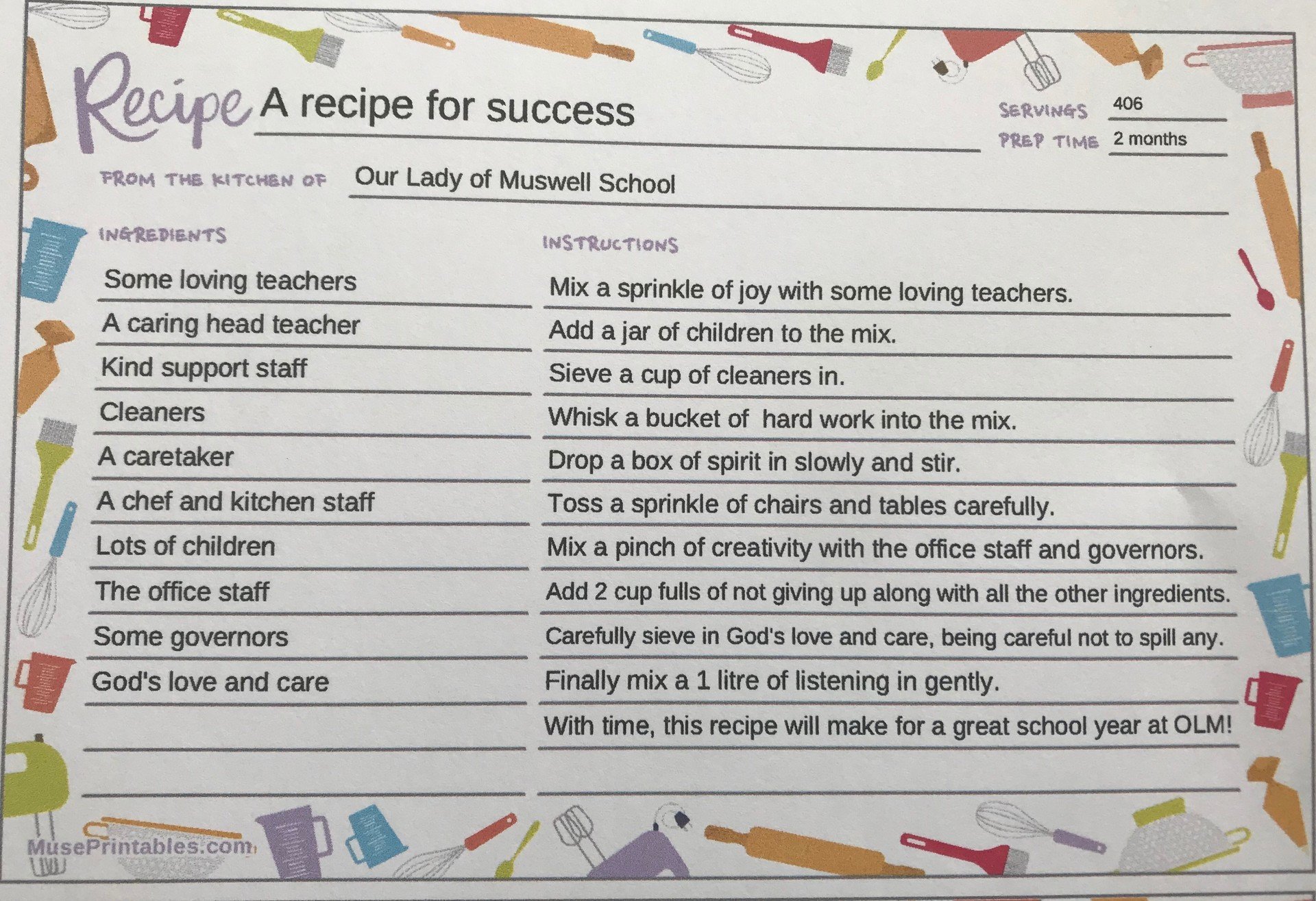 Happy holidays!
We would like to thank all our families and the OLM community for your support this year. We have had another fantastic year at OLM and look forward to new adventures in September. Here's our OLM flash mob dance video...a little reminder of the fun we had earlier this year!
Class attendance winners!
Well done Y1M and Y5Y for having the best attendance all year! Today they received their prizes from Aquinas Education. Thank you Aquinas Education for helping get our children to school every day!
Attendance winners!
Congratulations to Jayden, Aurelia and Carolina who were winners in our 100% attendance draw! Well done on getting to school every day this year. The received some vouchers from Sam and Aquinas Education as a reward! Thank you Aquinas Education for helping get our children to school.
Sports Day winners!
Congratulations to the GREEN team who were the overall winners at Sports Day this year. Well done!
Blue team are the winners!
Congratulations to the blue team who are the winners of the house points competition this year. They enjoyed an afternoon of ice-cream, playground games and had the privilege of wearing their own clothes on Wednesday. Well done Blue team!
Sports Day
Today we celebrated Sports Day! The children and adults had a fantastic morning in the sunshine talking part in lots of different events. The winner of Sports Day will be announced at a very special assembly on Monday!
OLM Music concert.
watch the highlights of our music concert held on July 9th here! We are so proud of the incredible talent across our school.
Our Lady of Muswell School Blog
admin on: Our Lady of Muswell School Blog
Violinists and Pianists performed this morning showcasing their amazing talents. All the children are taught by Mary, one of our enthusiastic and vibrant music specialists who teach at OLM.
Well done to all the children who participated; it was a wonderful start to our Tuesday morning!
---
admin on: Our Lady of Muswell School Blog
Congratulations to our boys' cricket team who reached the final of the Haringey Kwik Cricket competition held today. As well as playing to an amazing standard, they displayed sportsmanship throughout. After successfully completing all the qualifying rounds, they were narrowly beaten by Muswell Hill School in the final. Congratulations - we are so proud of you!
---
admin on: Our Lady of Muswell School Blog
7 Good Reasons to Walk your Child to School
Recent research has shown that children who walk to school arrive in a calmer frame of mind, ready to cope with the work of the day.

Walking to school will give both you and your child some exercise and research has shown that many children don't get enough exercise.

Walking to school will give you the chance to talk to your child and enforce some of the road safety messages.

No more hassle of school gate parking, which can put children in danger.

Walking to school means one less car on the road reducing cogestion and pollution .

20% of all rush hour traffic is made up of people doing the school run.

Even if you live out of the school's catchment area there is nothing to stop you parking a reasonable distance from the school where it is easier to park and walk the rest of the way.
---
admin on: Our Lady of Muswell School Blog
The year 6 Bake Sale raised a staggering £523.10! The proceeds wil go to help support the victims of the Nepal earthquakes.
Thank you and well done to the year 6 who organised the event!
---
admin on: Our Lady of Muswell School Blog
The year 6 children completed their key stage 2 SATS this week. They have worked incredibly hard and showed a great attitude throughout. I am sure they will get the wonderful results they deserve. WELL DONE year 6!
---