Our Lady of Muswell School Blog
admin on: Our Lady of Muswell School Blog
Dear Parents, carers and staff
Castle water were carrying out works at the weekend and have left the school with no water pressure. We are therefore not able to open the school until the situation is resolved.
We apologise for the inconvenience and will update everyone as soon as we have more information from the engineers.
Many thanks for your cooperation and understanding
Mrs McNicholas
Headteacher
---
A recipe for success!
At our first assembly of the year, children from year 1 to year 6 created a recipe for success. We thought about what we needed to have in our school cake to ensure success and happiness throughout the year. The children's wonderful imaginations shone through and they came up with a real recipe for success!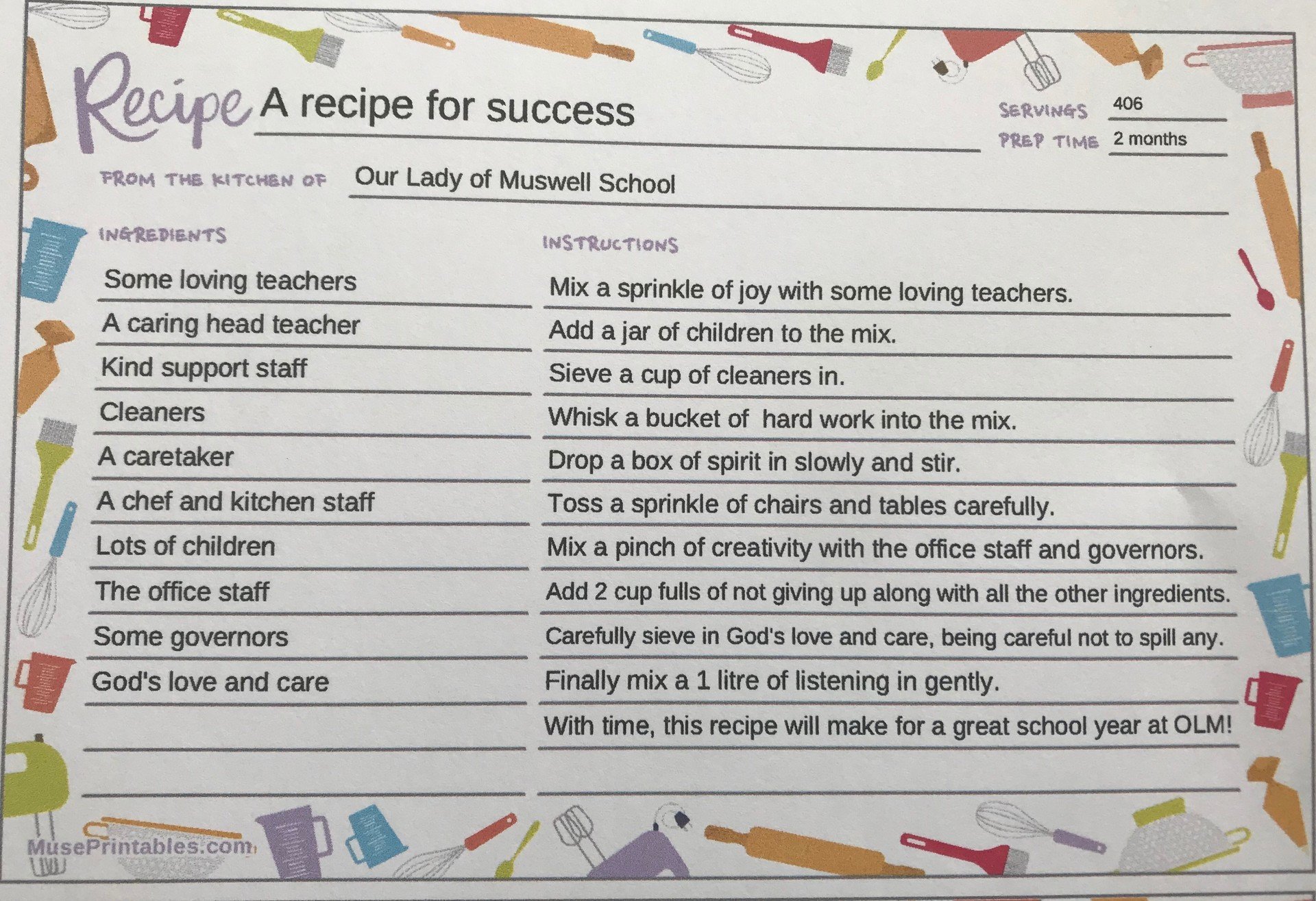 Happy holidays!
We would like to thank all our families and the OLM community for your support this year. We have had another fantastic year at OLM and look forward to new adventures in September. Here's our OLM flash mob dance video...a little reminder of the fun we had earlier this year!
Class attendance winners!
Well done Y1M and Y5Y for having the best attendance all year! Today they received their prizes from Aquinas Education. Thank you Aquinas Education for helping get our children to school every day!
Attendance winners!
Congratulations to Jayden, Aurelia and Carolina who were winners in our 100% attendance draw! Well done on getting to school every day this year. The received some vouchers from Sam and Aquinas Education as a reward! Thank you Aquinas Education for helping get our children to school.
Sports Day winners!
Congratulations to the GREEN team who were the overall winners at Sports Day this year. Well done!
Blue team are the winners!
Congratulations to the blue team who are the winners of the house points competition this year. They enjoyed an afternoon of ice-cream, playground games and had the privilege of wearing their own clothes on Wednesday. Well done Blue team!
Sports Day
Today we celebrated Sports Day! The children and adults had a fantastic morning in the sunshine talking part in lots of different events. The winner of Sports Day will be announced at a very special assembly on Monday!
OLM Music concert.
watch the highlights of our music concert held on July 9th here! We are so proud of the incredible talent across our school.
Our Lady of Muswell School Blog
admin on: Our Lady of Muswell School Blog
Father Mark visited school this week as our reception children led a beautiful liturgy about love. The children sang and read prayers. Thye offered up hearts of love and painted amazing pictures of the people they love.
Thank you so much reception children - you were amazing!
---
admin on: Our Lady of Muswell School Blog
On Thursday 30th April, 8 children from Years 5 and 6 represented OLM in an athletics competition at The New River Sports Centre. 23 schools from across Haringey participated in several events including 100m, 600m, long jump, javelin and a 400m relay. Our children were amazing and looked fantastic in the new OLM sports kit. Each of the children participated in every event and our school ranked 12th out of the 23 schools taking part. All of the children tried extremely hard in all events and did tremendously well to finish in such a good position, with scores being very close between positions.We were particularly successful in the 600m and track events. The children should be extremely proud of themselves.
Well done OLM.
---
admin on: Our Lady of Muswell School Blog
It certainly has... in abundance. What a fabulous night was had by all as children from Reception right through to Year 6 entertained us. Thank you to all the children who practised so hard - I was so proud of you all. A huge thank you to the FOLM event organisers and the massive team of helpers who worked so hard to make the night such a success. In addition to having such a wonderful community event, a fabulous total of £2286.24 was raised! Mrs McNicholas
---
admin on: Our Lady of Muswell School Blog
Yesterday, our school council visited the Palace of Westminster to learn about the history of Parliament as well as the art and architecture of the buildings for which they have come to be so recognised. This was a great experience for the children who explored the House of Commons, House of Lords, Westminster Hall (the last remaining part of the original Palace) and the Central Lobby at the very heart of the Parliamentary Estate.

Our governors were also busy and spent the day in school. All governors commented on how their visit had helped them in the work they do to help all of us move towards our vision of being an outstanding and inclusive school. The governors enjoyed experiencing the wonderful work going on in our classrooms and felt privileged to be part of such a warm and special school.
---
admin on: Our Lady of Muswell School Blog
On Friday 27th March, a group of competition winners from OLM immersed themselves in the World of David Walliams! David gave a talk about his bestselling works for children, which include "The Boy in the Dress" and "Gangsta Granny". David also answered questions in a Q&A session. It was a fantastic event which the children enjoyed immensely.
---