Our Lady of Muswell School Blog
admin on: Our Lady of Muswell School Blog
Dear Parents, carers and staff
Castle water were carrying out works at the weekend and have left the school with no water pressure. We are therefore not able to open the school until the situation is resolved.
We apologise for the inconvenience and will update everyone as soon as we have more information from the engineers.
Many thanks for your cooperation and understanding
Mrs McNicholas
Headteacher
---
A recipe for success!
At our first assembly of the year, children from year 1 to year 6 created a recipe for success. We thought about what we needed to have in our school cake to ensure success and happiness throughout the year. The children's wonderful imaginations shone through and they came up with a real recipe for success!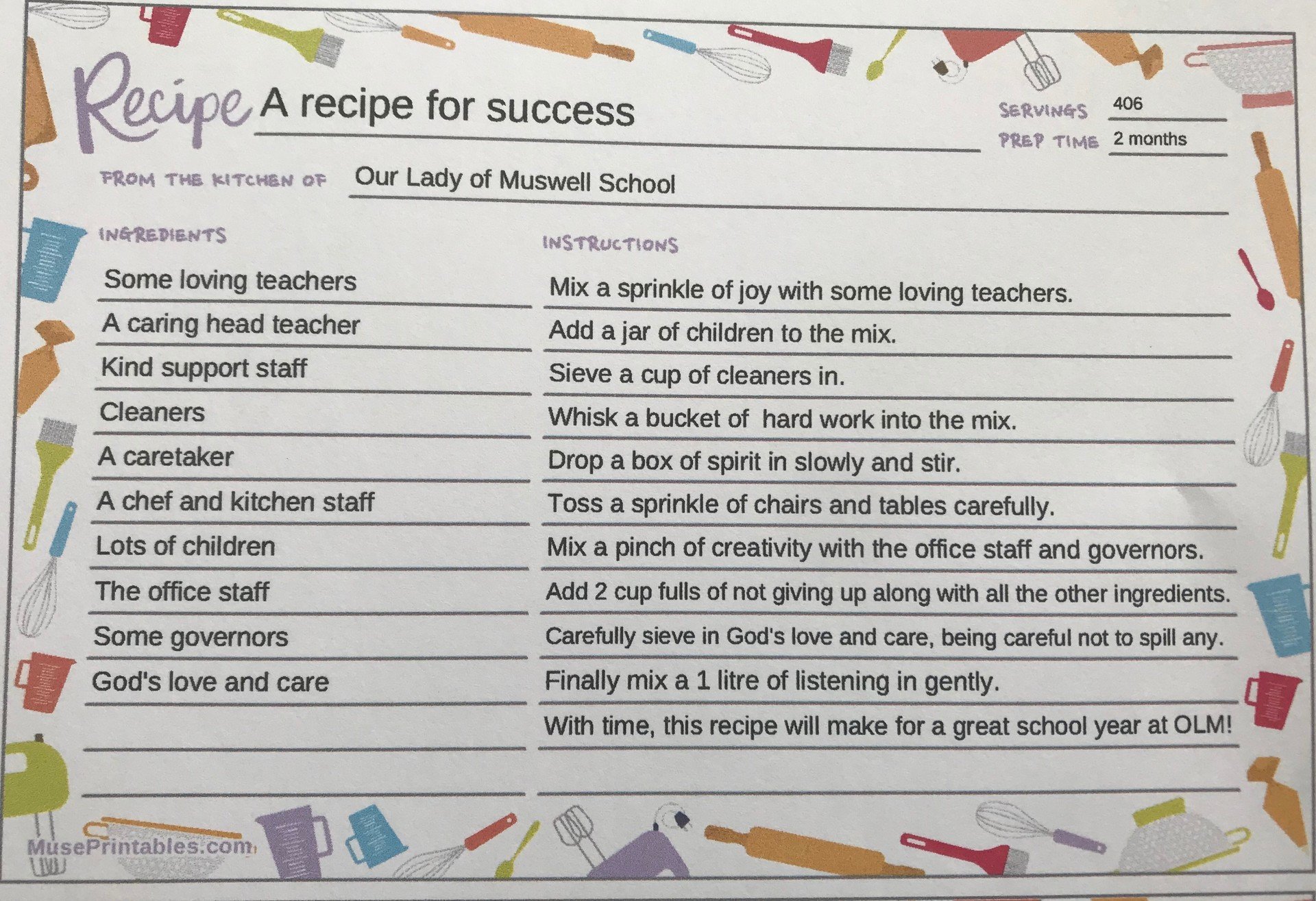 Happy holidays!
We would like to thank all our families and the OLM community for your support this year. We have had another fantastic year at OLM and look forward to new adventures in September. Here's our OLM flash mob dance video...a little reminder of the fun we had earlier this year!
Class attendance winners!
Well done Y1M and Y5Y for having the best attendance all year! Today they received their prizes from Aquinas Education. Thank you Aquinas Education for helping get our children to school every day!
Attendance winners!
Congratulations to Jayden, Aurelia and Carolina who were winners in our 100% attendance draw! Well done on getting to school every day this year. The received some vouchers from Sam and Aquinas Education as a reward! Thank you Aquinas Education for helping get our children to school.
Sports Day winners!
Congratulations to the GREEN team who were the overall winners at Sports Day this year. Well done!
Blue team are the winners!
Congratulations to the blue team who are the winners of the house points competition this year. They enjoyed an afternoon of ice-cream, playground games and had the privilege of wearing their own clothes on Wednesday. Well done Blue team!
Sports Day
Today we celebrated Sports Day! The children and adults had a fantastic morning in the sunshine talking part in lots of different events. The winner of Sports Day will be announced at a very special assembly on Monday!
OLM Music concert.
watch the highlights of our music concert held on July 9th here! We are so proud of the incredible talent across our school.
Our Lady of Muswell School Blog
admin on: Our Lady of Muswell School Blog
Today we welcomed a very special visitor to OLM - Hari Bear.
Hari Bear has been travelling to primary schools across Haringey for the past 3 weeks and OLM was the final stop on his journey. Children from Tetherdown Primary School walked from their school to OLM and handed Hari Bear over to our children. Hari Bear has been promoting walking to school and reminding children about the benefits of walking and cycling to school. We brought our favourite teddy bears to school today so that Hari had some friends while visiting OLM!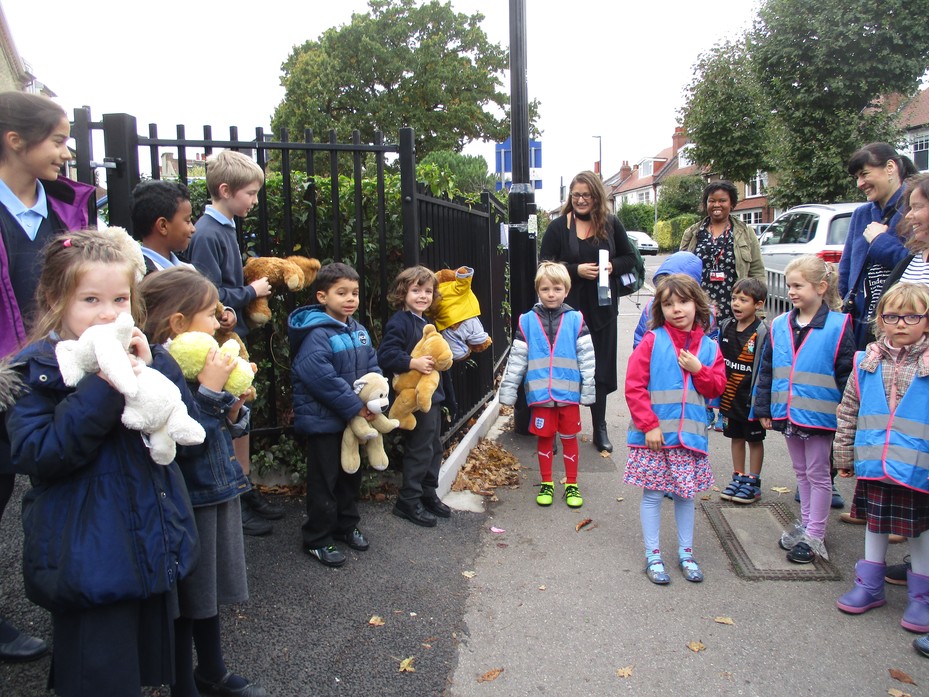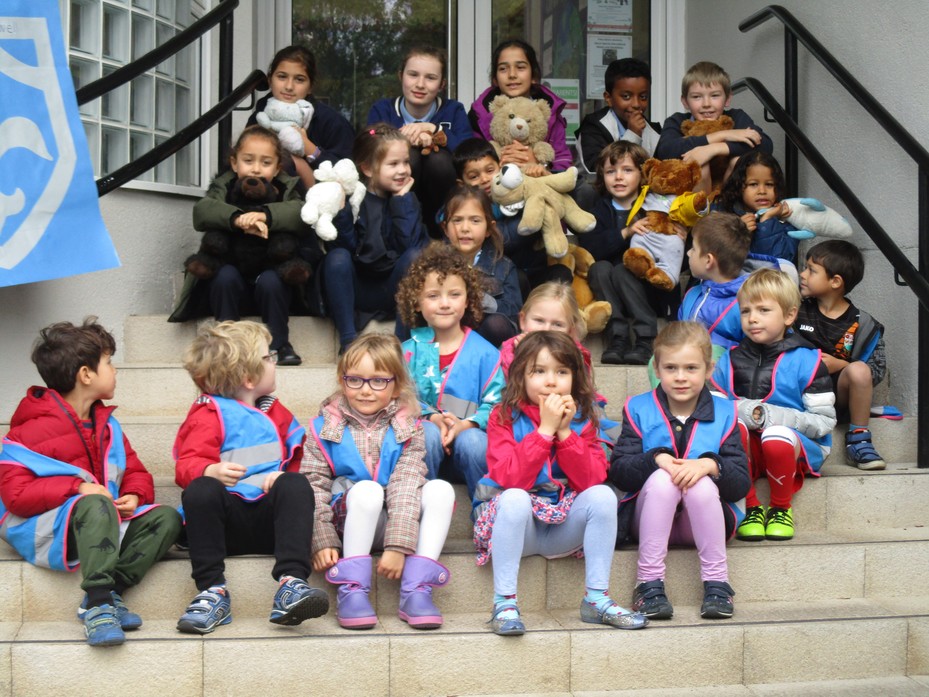 ---
admin on: Our Lady of Muswell School Blog
We were very pleased to welcome back Ten Ten Theatre to our school on Wednesday 19th October. The day began with an assembly for children and parents which explored themes within the Year of Mercy. Throughout the day children attended short plays which further explored these themes and provided opportunities for children to think about showing mercy each other.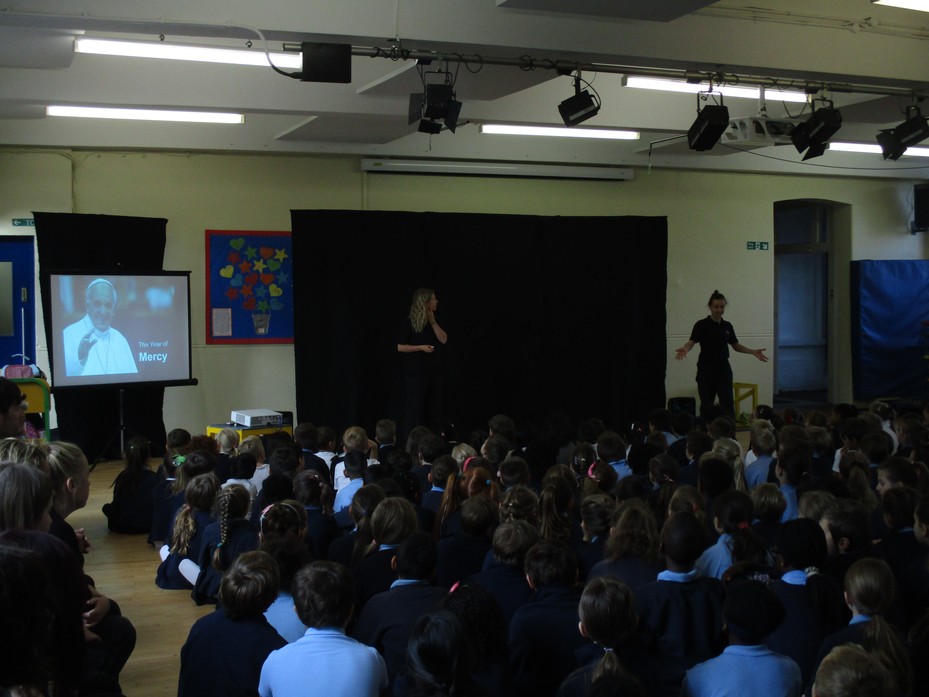 ---
admin on: Our Lady of Muswell School Blog
Each year, the Royal Society awards a prize for the best nonfiction science books for young people.
The Prize aims to inspire young people to read about science and promotes the writing of excellent, accessible books for under-14s.
OLM was lucky to win a place on the judging panel so a group of year 6s have worked together to nominate a winner! Along with a collection of judging panels made up by children from across the UK, the overall winner of the Young People's Book Prize is being decided and will be announced in early November.
Please follow the link below to find out more. You might even get to see a glimpse of our judges in action!
https://royalsociety.org/grants-schemes-awards/book-prizes/young-peoples-book-prize/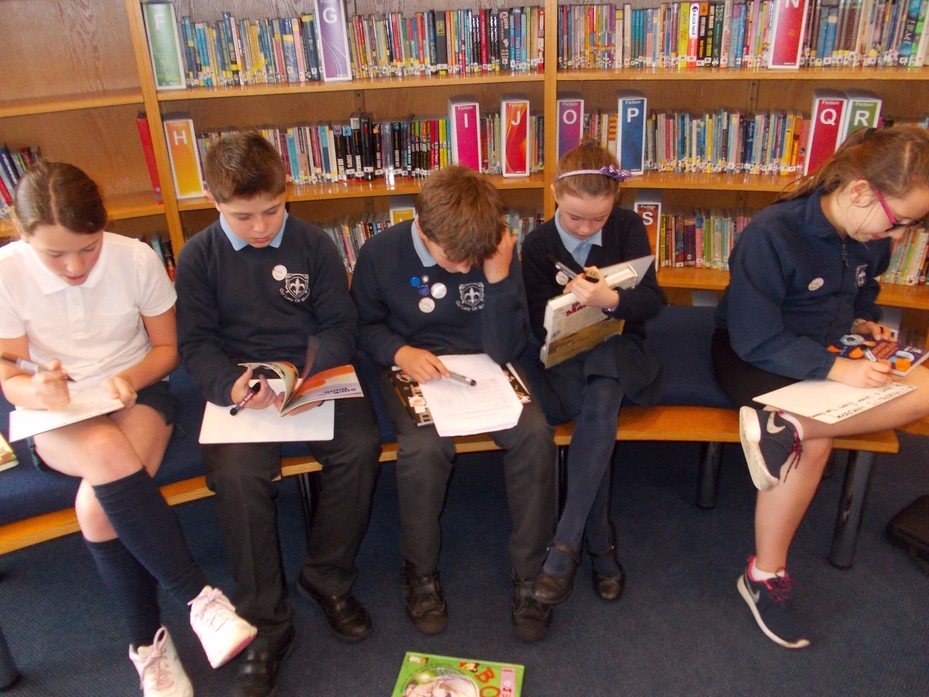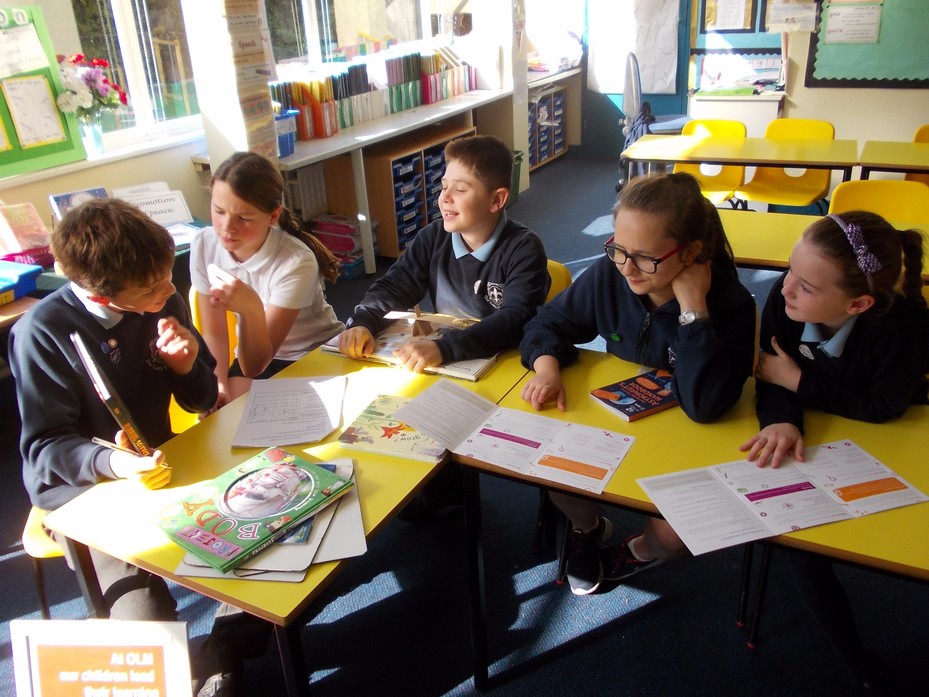 ---
admin on: Our Lady of Muswell School Blog
Art Day has arrived! We are all looking forward to a wonderful day creating works of art inspired by nature. It's sure to get messy!
---
admin on: Our Lady of Muswell School Blog
The Friends of OLM held their AGM last night at the school. They continue to go from strength to strength with a record £18,946 raise last year!!!
Everyone at OLM is automatically a member of this group so please get involved and support this wonderful team.
---