Our Lady of Muswell School Blog
admin on: Our Lady of Muswell School Blog
Dear Parents, carers and staff
Castle water were carrying out works at the weekend and have left the school with no water pressure. We are therefore not able to open the school until the situation is resolved.
We apologise for the inconvenience and will update everyone as soon as we have more information from the engineers.
Many thanks for your cooperation and understanding
Mrs McNicholas
Headteacher
---
A recipe for success!
At our first assembly of the year, children from year 1 to year 6 created a recipe for success. We thought about what we needed to have in our school cake to ensure success and happiness throughout the year. The children's wonderful imaginations shone through and they came up with a real recipe for success!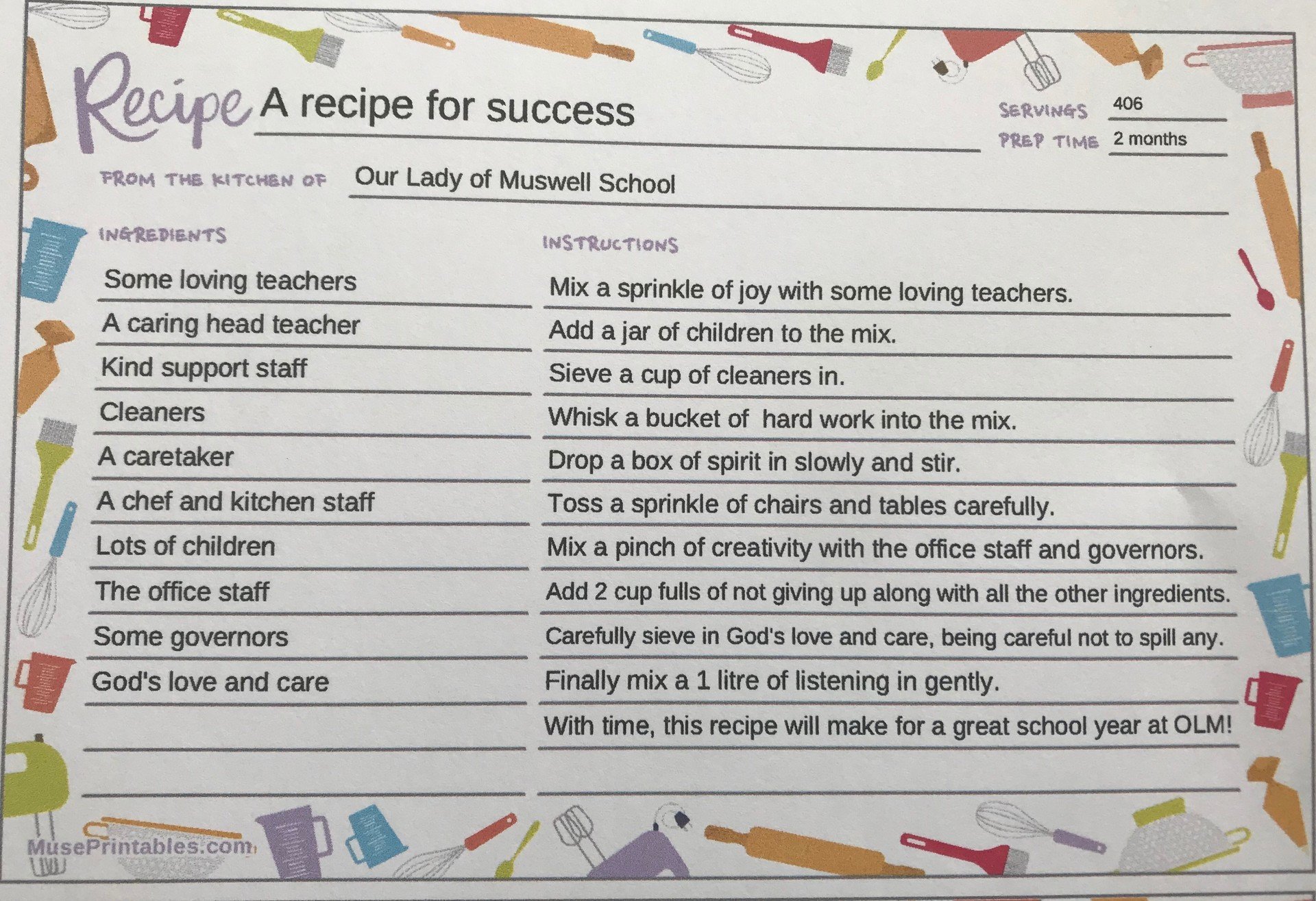 Happy holidays!
We would like to thank all our families and the OLM community for your support this year. We have had another fantastic year at OLM and look forward to new adventures in September. Here's our OLM flash mob dance video...a little reminder of the fun we had earlier this year!
Class attendance winners!
Well done Y1M and Y5Y for having the best attendance all year! Today they received their prizes from Aquinas Education. Thank you Aquinas Education for helping get our children to school every day!
Attendance winners!
Congratulations to Jayden, Aurelia and Carolina who were winners in our 100% attendance draw! Well done on getting to school every day this year. The received some vouchers from Sam and Aquinas Education as a reward! Thank you Aquinas Education for helping get our children to school.
Sports Day winners!
Congratulations to the GREEN team who were the overall winners at Sports Day this year. Well done!
Blue team are the winners!
Congratulations to the blue team who are the winners of the house points competition this year. They enjoyed an afternoon of ice-cream, playground games and had the privilege of wearing their own clothes on Wednesday. Well done Blue team!
Sports Day
Today we celebrated Sports Day! The children and adults had a fantastic morning in the sunshine talking part in lots of different events. The winner of Sports Day will be announced at a very special assembly on Monday!
OLM Music concert.
watch the highlights of our music concert held on July 9th here! We are so proud of the incredible talent across our school.
Our Lady of Muswell School Blog
admin on: Our Lady of Muswell School Blog
On Thursday Nursery visited North Finchley Arts Depot on the 134 bus to take part in a show called 'The Hippity hop Show'. The children danced and rapped along with the actors in this interactive theatre experience.
​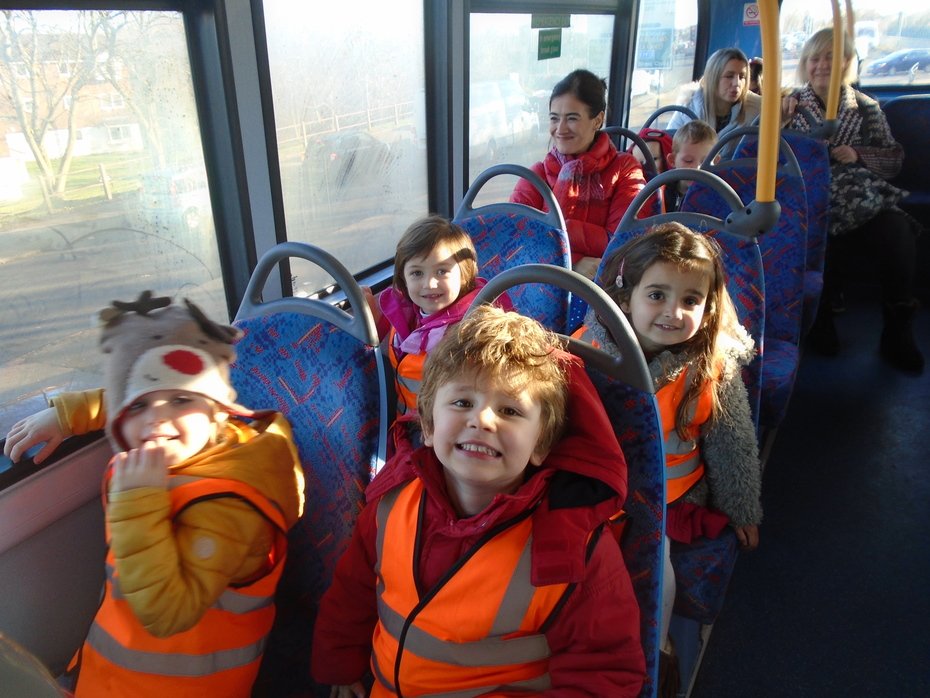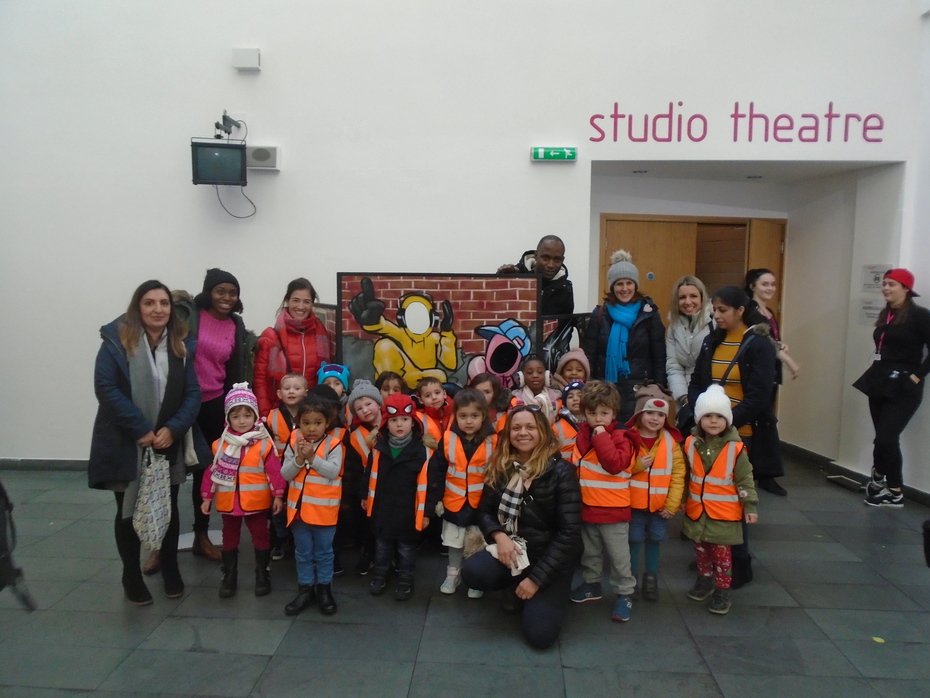 ---
admin on: Our Lady of Muswell School Blog
This week we have seen Y3, Y4 Y5 and 6 in action. Year 3 blew us away with their Christmas story helping us find the true meaning of Christmas. We all wanted more of year 4's rendition of Oliver, as we were transported from OLM to the bright lights of 'The West End'.
Year 5 and 6 helped everybody in to the Christmas mood with their angelic singing on Wednesday night!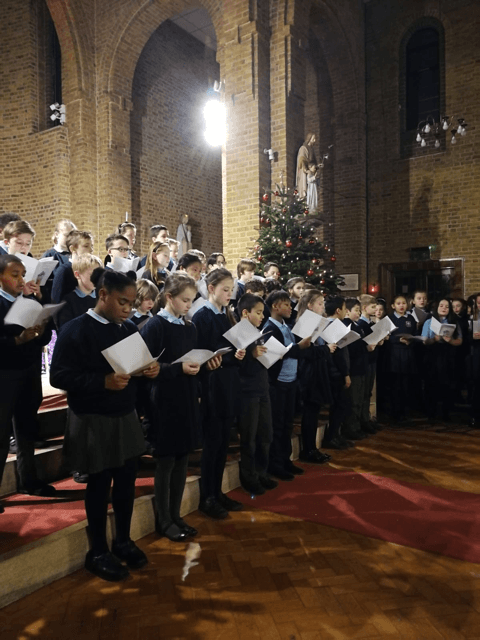 ---
admin on: Our Lady of Muswell School Blog
Year 1 spread the Christmas Spirit to the residents at Springtime Nursing Home this week when they sang songs from their Christmas show and delivered their hand made cards .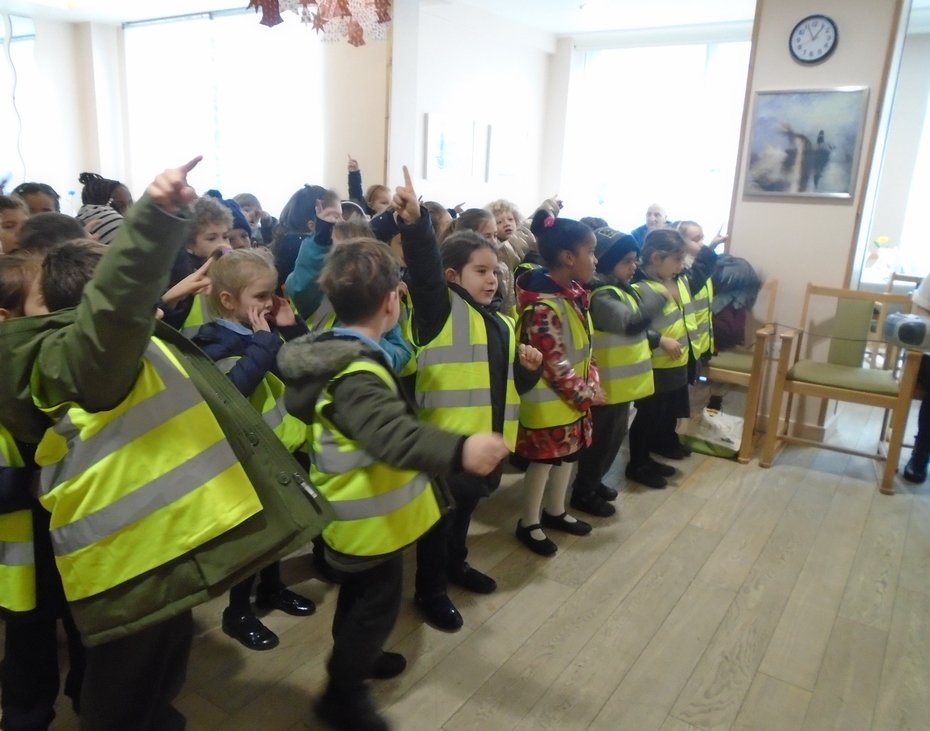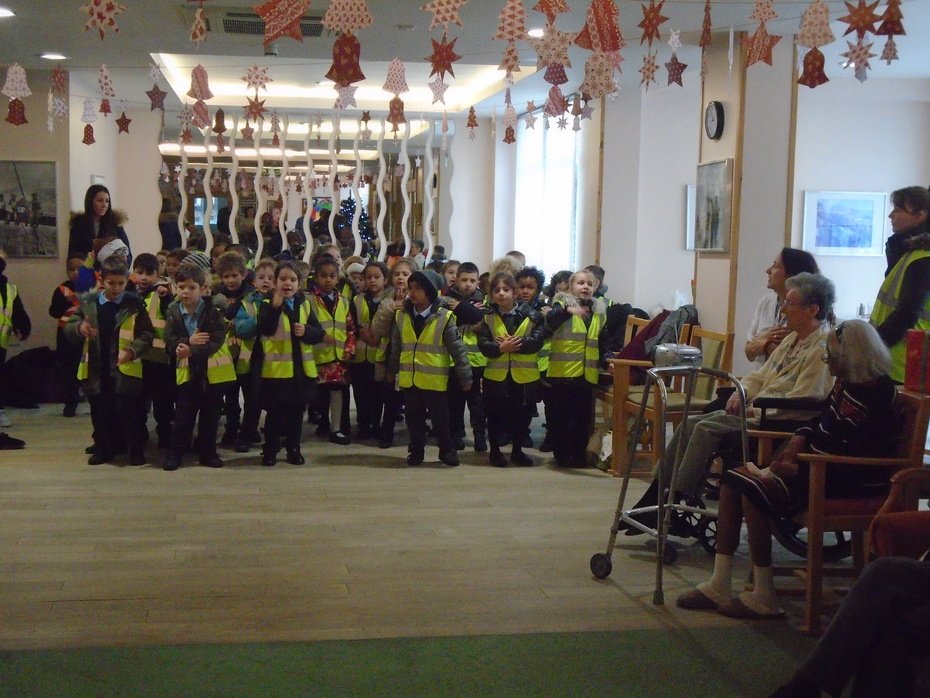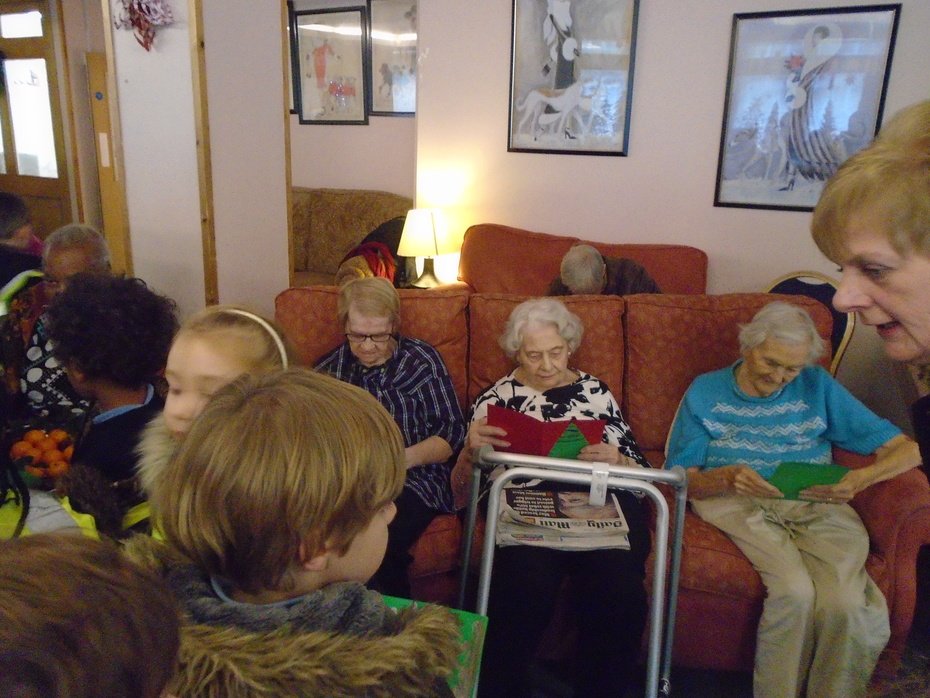 ---
admin on: Our Lady of Muswell School Blog
'Muswell Hill Smile' dentists came in to year 4 on Thursday to talk to the children about keeping their teeth healthy. They showed the children the correct way to brush their teeth and what could happen if they don't brush at least twice a week. The children had lots of fantastic questions prepared and the dentists were very impressed by their knowledge of how plaque builds up on your teeth.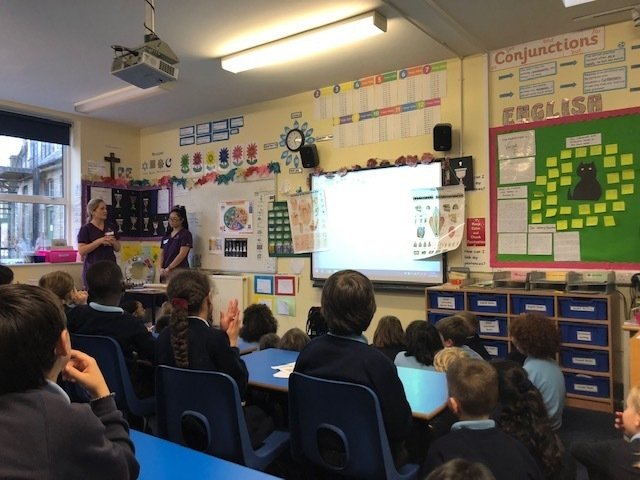 ---
admin on: Our Lady of Muswell School Blog
Year 3,4,5 and 6 were treated to an inspiring visit from David Solomon Wednesday morning ! They heard about 'The secret in Vault 13' , they created their own doctor who adventure and recreated the own scene!!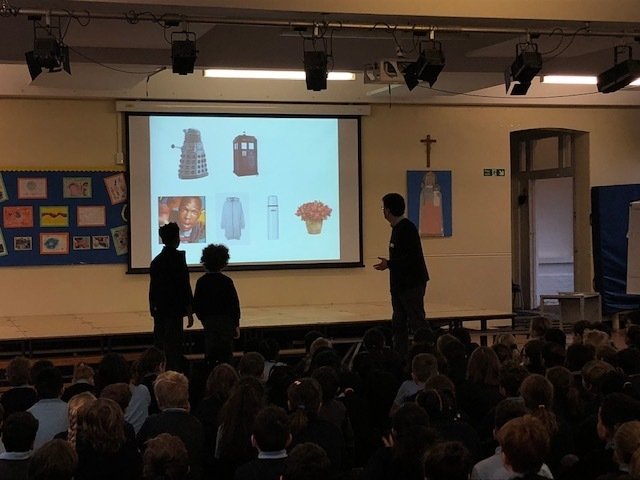 ---