Catholic life of the school
The Catholic life of the school is at the heart of the OLM community. We want every child to understand the responsibility that they have to others around them and be the best citizen they can be - we want to truly live out the Gospel Values.
Below you will see a small selection of events that take place through the year to ensure we focus on that responsibility to others.
Not everyone in our school community is Catholic and we truly are as an inclusive community ensuring that everyone is respected and valued.
Our most recent RE Inspection took place in May 2018. The catholic life of the school formed a substantial part of the inspection and we were delighted to be graded Outstanding . Please click the following link to read the full report - Diocese of Westminster RE Inspection May 2018
Spirituality Week
The school community came together this week to celebrate Spirituality Week. The theme this year was 'The World' and we all got a chance to reflect and think about how we could help our neighbours around the world. We also listened to a song called 'Grateful: A love song to the world' and the children painted pictures of the things they are grateful for.
May liturgy
This morning Fr Mark came in to celebrate our May liturgy with us which was led by Year 5 and Reception children. During the liturgy we were reminded of the importance of Mary, especially during the month of May. A crown of flowers was made during the service and placed on our statue of Mary.
Lent liturgy
Thank you to Y4 and Fr Mark who led our Lent liturgy this morning. The children read beautifully and it was a lovely way to start this Holy season, preparing us for Easter.
Bishop John Sherrington
We were very lucky to receive a visit from Bishop John Sherrington. He spent the morning with us celebrating a liturgy about friendships that Year 1 and Year 6 prepared and led beautifully. Our Year 6 Mini Vinnies then gave Bishop Sherrington a tour of the school and showed him all the wonderful work and displays. Bishop Sherrington also visited each class and answered some questions that the children had prepared. We found out that his favourite celebration in church is Easter, he studied maths at university and he was chosen by Pope Francis to be a Bishop.
Advent liturgy
The school community came together to celebrate the beginning of Advent. The liturgy was led by our Year 3 children and Fr Mark. They told us about the Advent wreath and how just like a circle, God's love never ends. The first candle will be lit on Sunday and each week in the lead up to Christmas.
Remembrance Day
In the lead up to Armistice Day, this week the children have been thinking about the members of the armed forces who have died in the line of duty and those who are currently serving in the armed forces today.
Harvest Liturgy
The school community came together this week to celebrate our Harvest Liturgy which was led by Year 2. It was a time for us all to stop and thank God for all the wonderful gifts we have, especially at harvest time. Year 2 also shared their harvest painting with us.
Rosary
Rosary prayer group takes place in the library each morning at 8:40 am throughout October. All families are welcome to join us.
Welcome Mass
Our school community came together this morning to celebrate mass with Fr Mark. Reception children and their Year 5 buddies worked together to lead our mass to welcome new families to our school community. It was lovely to see so many parents, carers, grandparents and governors join us in our special celebration.
The Wednesday Word
Every Wednesday a 'word', inspired by the coming Sunday's Gospel, will be suggested for families to talk about at home. The Wednesday Word is structured around the Sunday Gospel, because evidence shows that Gospel values really do help family relationships to thrive. Children will have the opportunity to read the 'Wednesday Word' leaflets in class each week and reflect on the Gospel readings. There are spare copies of the 'Wednesday Word' in the reception area by the school office. Please feel free to take one and share this with your family at home. Each Wednesday a new leaflet will be available.
Bags of Kindness
Thank you so much to everyone who donated items to the victims of the Grenfell Tower Fire. Last week the Deputy Head teacher from Oxford Gardens Primary School in North Kensington came to collet the many items that were donated from the families of OLM. She said that the children are very grateful to receive these items and it will bring a smile to their faces at this difficult time.
SVP Virtual Balloon Race
The SVP balloon race has officially ended. To see how far your balloon travelled please log on to the following website https://svp.rentaballoonrace.com
Spirituality Week Display
The theme of this year's Spirituality Week was 'Imagine'. It was a time for us all to imagine what the world could be like if people treated each other better and the things we would like to happen in the world to make it a better place. Take a look at the photographs to see the children's work.
Spirituality Week 26th - 30th June 2017
This week at OLM we have been celebrating Spirituality Week. The theme for this years Spirituality Week was 'Imagine'. It was a time for us all to imagine what the world could be like if people treated each other better and the things we would like to happen to our world to make it a better place. Children had time to reflect at the prayer stations set up in the drama studio and take part in different lessons in class throughout the week. Take a look at some of our photos.
SVP Virtual Balloon Race
The SVP balloon race has officially started! The balloons were launched from the Eiffel Tower in Paris at 12:45 pm today (Thursday 15th June 2017). To track the progress of your balloon please log on to the following website https://svp.rentaballoonrace.com
St Vincent de Paul's Society Virtual Balloon Race
A reminder that the new launch date for the SVP race is Thursday 15th June and will finish a week later on Thursday 22nd June 2017. You can no longer buy paper tickets from school but if you would like to take part you can buy a ticket online by clicking on the following link http://rabr.co/svp
May Rosary
Thank you to all the parents,carers, governors and children who attended the morning Rosary prayer group throughout May. A special thank you to the children who led the group each day.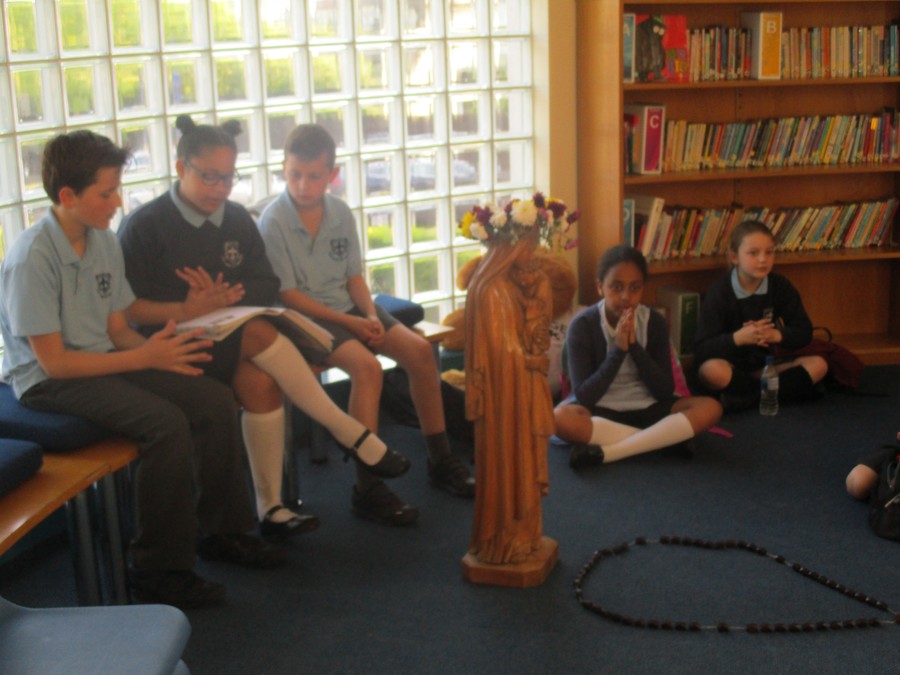 SVP Virtual Balloon Race
Recently our Mini Vinnies launched an exciting new event that OLM will be taking part in, the SVP Virtual Balloon Race. Please see the attached letter for all the information you need to take part. Tickets costs £3 each with OLM receiving £1 for each ticket sold.
SVP Virtual Balloon Race letter
More information can also be found on the following website: http://rabr.co/svp
Welcome Week at OLM
If you haven't already seen the impact of our welcome week then please click the link below
Children's Society OLM Welcome Week
The photographs in the slideshow below show our display of work that children from Reception to Year 6 did throughout the week.
Lenten Newsletters for parents
Throughout Lent, Ten Ten Resources is exploring the Sunday Gospels by following the theme, "Trust, Surrender, Believe, Receive." Each week we will share these newsletters with you. Please take some time to read these and talk to your child about this special time of year.
To view the newsletters click on the following links:
Catholic Children's Society Assembly
Kimberly from the Catholic Children's Society came into school to talk to us about the work that the charity does and how we can all help. She shared a story about a lady and her two children who lost her job and the whole family ended up homeless. Within the space of 24 hours, the charity was able to help find them a home and provide bedding and clothes.
The theme of this years' Lenten Appeal is 'Growing Together.' Pupils will look at different actions they can take to work together and grow closer to God this Lent.
Each child will bring home a collection box to collect any spare change which they can then bring in to school and activity sheets for them to complete at home.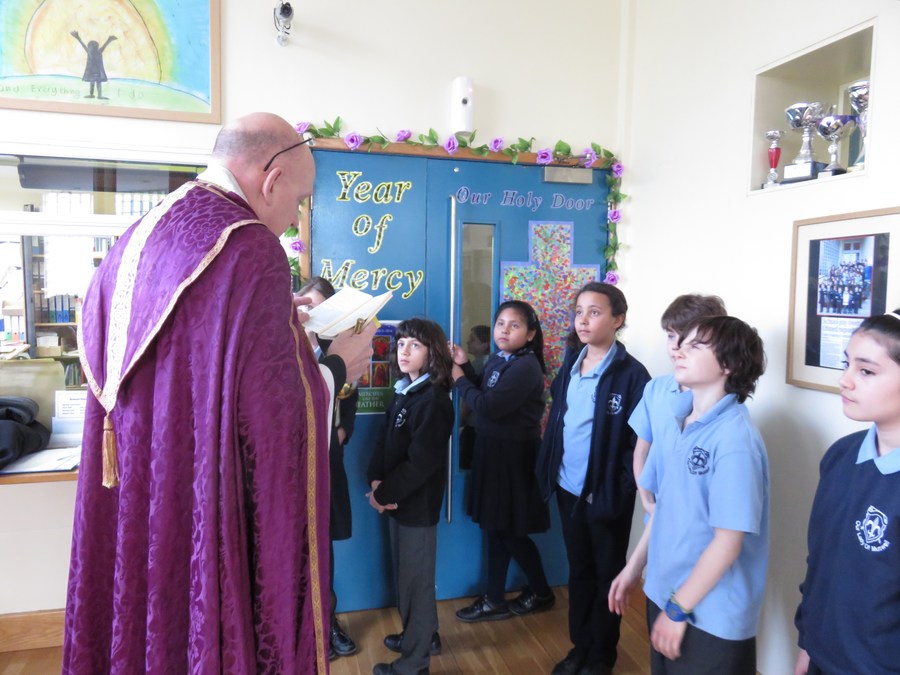 Mini Vinnies
Mini Vinnies is a group of children who get together to help those in need within the school and local community. Our Mini Vinnies are made up of two children from each class from Year 1 to Year 6. We meet to discuss things we can do to help others and also to talk, share ideas and concerns, to have fun and support each other. Here are OLM's Mini Vinnies.