Welcome to Reception 2017 - 2018
Art Day
Reception have been learning about the artist Jackson Pollock who is famous for his 'Splat' paintings. We watched a video about his life and then created our own splat paintings. You will get to see these at our art exhibition on Tuesday 10th July.
Buddies
To finish our 'Book Week' celebrations, Reception got together with their Year 5 buddies and shared stories outside.
Book Week celebrations continued
Reception were very lucky today to receive a visit from Judi Abbot, an author and illustrator. She came in and read her book 'Train' to us. The book is about an elephant that loves trains, but the other animals want to play with other toys. We then thought about our favourite toys and drew pictures of them.
Book Week at OLM
Reception visit the book stations in the drama studio where they got to share books with each other, write a book review and share poetry. We had so much fun. Thank you to the year 6 children for leading it and helping us out.
Posting letters
Reception have been very busy this week writing some special messages. We then visited the post box on Pages Lane to post these messages to some very special people. We are going to make some people very happy this weekend!
Easter Gardens
This week in Reception we have been learning about the Easter story and Jesus dying on the cross on Good Friday. We then made our own Easter gardens to remember that Jesus died and rose again on Easter Sunday.
Sandwich Stations
In class today we set up sandwich stations were children were able to choose their own fillings and make their own sandwiches. One classroom had bread and the other classroom had tortilla wraps. The children had a great time practising their skills of spreading and cutting. They also enjoyed eating them!
Soil Science
To end Science Fortnight at OLM we were very lucky to have a visit from Olive's mum Jacqueline who is a soil scientist. She taught us all about what soil is made from and we have started an investigation in to what happens to soil when it is mixed with water and then left. We then got to make our own animals using local soil from Olive's garden! Thank you so much Jacqueline for sharing your knowledge with us.
Trip to the bookshop
Reception went on a trip to the Children's bookshop in Muswell Hill this morning. We got to listen to a story and then we got to spend our World Book Day tokens on a new book each that we have taken home to share with our families.
British Science Fortnight at OLM
To continue our learning for British Science Fortnight, Reception children have been looking at volcanoes. We watched a video of a video of a volcano erupting and then went outside to see what would happen if we put mentos mints in coke. Look at our video for the results!
Animal Handling (British Science Fortnight)
The children got to enjoy a hands on animal handling experience today to celebrate the start Science Week. There was a rabbit, chinchilla, gerbils, lizard, snake and spider. Even the teachers faced their fears and held a tarantula!
Painting in the snow
The children put on their coats and wellies to go and have fun in the snow this morning. They used powder paint, spoons, sieves and paintbrushes to paint in the snow. Some children even experimented mixing colours. Look at our photos to see the fun we had!
Marshmallows around a campfire
Noah (Gruffalo) and Sofia S (Elmer) have been working together over recent weeks building a campfire in our outdoor area. They collected sticks and large pieces of wood and then used orange, yellow and red paper for the fire. They invited the other children to join them and pretend to roast marshmallows over the fire. To enhance their learning, on Friday we melted chocolate and the children got to come and dip their marshmallows in the chocolate on the 'fire'. Mrs McNicholas and Marco our chair of governors even came to join in the fun!
Safer Internet Day
In Reception we have been learning about how to stay safe when we are using the internet. We have learnt a song that we hope people will remember if they need to know what to do.
Making Pizza
Today we decided to make our own mini pizza's. The children got to choose their own choice of toppings and then got to eat them this afternoon. The children remembered the fruit pizza's they had made during health week and talked about the differences between the fruit and the savoury ones.
Learning about 2D shapes
This week we have been learning about 2d shapes (circle, triangle, rectangle and square). In our maths lesson today we sorted the shapes in to groups and talked about how many sides they have. We then got to eat different shaped food. It was a yummy lesson!
Health Week 22-26th January 2018
Today saw the first day of Health Week at OLM. In Reception we talked about the things that keep us healthy such as exercise and eating the right foods. We then made our own healthy fruit pizzas and enjoyed eating them!
Polly Faber Visit
Polly treated Reception to the world premiere of her new book 'Grab That Rabbit'.
New Resources
Thank you for sending in the sponsor money for our sports event that we held in the Autumn term. We raised a total of £533.23 which is fantastic. As a result we have been able to buy the following;
Three sensory colour changing light cube tables, three talking recordable books, three Amazon Kindles which the children can use to take their own photographs and access educational apps, a light box panel starter kit which contains three hundred pieces and a thousand coloured translucent plastic tiles.
Please keep an eye out on this page in the coming weeks to see photos of the children using these resources. Thank you once again for your continued support.
Christmas lunch
We all enjoyed coming to school wearing our Christmas jumpers and party clothes today. Chef made us a lovely Christmas dinner and we got to pull our own crackers!
Fun in the snow
Reception children got dressed into our outdoor clothing this morning to spend a very short time exploring the snow and ice. Children observed changes to the snow and talked about what happens to snow and ice as it gets warmer. We also had fun guessing which animals had made footprints in the snow before making our own footprint with our wellies!
Trip to St James Church to learn about the story of Christmas
Reception enjoyed our trip to St James Church this morning where we were taken back in time to Bethlehem where we got to learn about the story of the very first Christmas. We got to meet the prophet who foretold Jesus' birth, meet Mary as she received the message from the Angel, King Herod who wanted us to tell him where baby Jesus was and finally we got to meet baby Jesus in the stable. The children were also very excited to meet some real live animals!
Christmas Concert
We are so proud of all the Nursery and Reception children who performed their Christmas play 'Whoops-a-Daisy Angel' for all the parents and carers today. Their acting and singing was fantastic! Well done.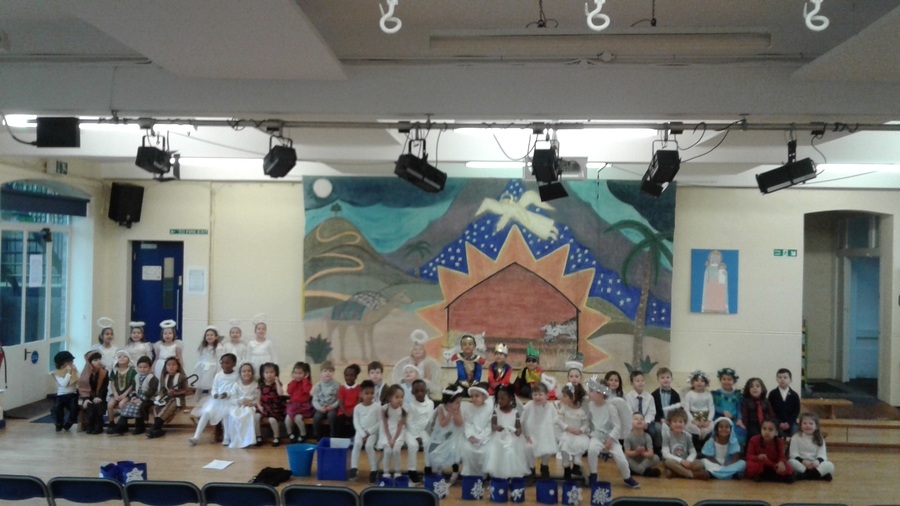 EYFS Sponsored Sports Event
On Monday the children in Nursery and Reception came together to take part in a sponsored sports event to raise money to buy a light box and resources to enhance our learning. All of the children completed five different sports activities and had so much fun. Thank you to the parents and carers who came along to cheer the children on. We can't wait to order the new resources and see the excitement on the children's faces. Thank you for your continued support.
Phonics workshop for parents and children
Thank you to all the parents/carers who attended the phonics lesson today. We hope it gave you an insight in to how we teach phonics and some ideas of how you can support your child at home. If you have any questions or would like further support please come and see one of the Reception team.
Judaism Week
This week in RE we have been learning about the Jewish faith. We started the week by listening to the story of Hanukkah and how important oil is in the story. We then made potato latkes which are cooked in oil. Then on Thursday we were lucky to have a visit from Ruth Jampel who talked to us about her Jewish faith and told us all about Shabbat. We were lucky enough to get to try on kippah's and prayer shawl's and even sat down for a Shabbat meal with challah bread and grape juice wine. Take a look at our photos of the week.
Today I saw a little worm poem
In class we have been looking at a book called 'Yucky worms'. Today in class we learnt a poem called 'Today I saw a little worm' by Spike Milligan. Take a look at our video of us reciting the poem.
Welcome tea party celebration
In RE we have been learning about what it feels like to be welcomed into a family, group or school community. During our 'Welcome' topic we learnt about being welcomed in to God's family through Baptism and talked about the celebration or meal that people share. To celebrate our learning we organised a tea party to welcome our friends in Nursery. Each class made food for the party to share with our friends.
Making a wormery
In class we have been reading a book called 'Yucky worms' by Vivian French. To support our learning about worms, Gruffalo and Elmer classes have been busy making their own wormeries. We have learnt that worms like to eat dead leaves and fruit and veg scraps so we will feed them and observe the tunnels that they dig!
Science Investigations
Gruffalo and Elmer classes have been busy taking part in different science investigations today. Elmer class investigated 'Soggy Cereals' where they discussed what happened to different types of cereal when water was added to it and why the changes occurred. Gruffalo class' investigation was called 'Dinosaur Discovery'. Children looked at 'ice eggs' and talked about what ice is and what happens to it. The children then spent time trying to get the dinosaurs out of the ice by melting it. Look at our pictures to see the fun we had.
Curriculum meeting for parents
Thank you to those of you could attend our curriculum meeting this week, we hope you found it useful. You can click on the link below to view the power point slides from the meeting. If you have any questions please see a member of the Reception team.
Author Visit
Reception and Year 1 were very lucky to receive a visit from award winning children's author Helen Docherty and illustrator Ali Pye today. Helen read her new book 'You can never run out of love' and Ali taught the children how to draw different characters from the story. The children had a great time.
Welcome Mass
Our school community came together this morning to celebrate mass with Fr Mark. Reception children and their Year 5 buddies worked together to lead our mass to welcome new families to our school.
Getting creative
This week in Reception we have been demonstrating our creativity by using a variety of materials to make animals for a display about living things. The display will be put up next week but in the meantime here is a sneaky peak at some of the things you might see!
Woodland Work
Reception had a lovely trip to the Methodist Garden's wooded area this morning. The children have given this area a new name and it is now called the 'Gruffalo Woods'. We spent time using magnifying glasses to look closely at the insects we could find and captured some to take back to class for a closer look. (They have since been returned to their natural environment). Some of the children then decided to draw and paint the insects they found. Our classes are now full of lots of spiders, worms, slugs and snails! Take a look at our photos.
Our first week at school
We have had a busy first week in Gruffalo and Elmer class this week. We have begun to make new friends and explore our new learning environments. Take a look at our photos!
We can't wait to welcome all the new Reception children next week. The classes are all set up and ready for learning. Take a look at some of the photos!
Reception Team:
Miss Haugh - Gruffalo Class Teacher Mrs Weddell- Gruffalo Nursery Nurse
Mrs Cantellow - Elmer Class Teacher Miss Haugh - Elmer Nursery Nurse
Information on phonics and fun games to play.