Welcome to Reception 2016 - 2017
This is what Gruffalo Class have done with all the boxes, tubes, cylinders etc. that you sent in. We made our own number machines. We planned our model last week and drew it on paper and finally completed them today. We all used them in our maths lesson this morning. We recorded what our number machines were doing, in the form of sums. We hope you enjoy our videos!
Reception classes visit the farm!
In the last week of May Elmer class went to visit the lovely staff at the bookshop to find out more about books. We got to listen to some lovely stories and the owner, Sanchita read our very own book that we wrote and illustrated ourselves. They put the book in the shop window, but luckily no one bought it and we returned it safely back to our classroom!
Elmer class visit the Children's Bookshop!
Gruffalo Election Day Gruffalo Election Day Gruffalo Election Day
We have election fever in Gruffalo class! All week, we have been thinking about what we would do if we were to become Prime Minister. We wrote our own manifestos, made own rosettes and gave our party its own name.
We made our very own party political broadcast.
Who will YOU vote for?
During our work on International Week, the children made some props to support their role play. They decided to turn the home corner into an 'International House'. They made their own flags and also decided to make some things to use during their Flamenco dancing - castanets and fans. The castanets were made using card and washers. The children are enjoying practising their Flamenco dancing with them!
After our amazing Bollywood dancing at the talent show, we have now moved on to some Spanish dancing! Some children also brought in their beautiful Spanish dresses to wear. We are learning about Spanish art, food and the language.
Reception classes have been looking at Spain, as part of our International week. We made Magdalena cakes, which are traditionally eaten for breakfast in Spain. We cracked eggs, measured ingredients and even grated lemons! The cakes were very yummy and we enjoyed eating them after our daily run!
As part of International week Reception classes were lucky enough to go on 'An African Adventure' to a village in Kenya, and this was all done by using their imagination! The children enjoyed this drama session with James.
We have been reading the book 'Here Comes Frankie'. In this story, Frankie plays the trumpet. We have been looking at different musical instruments and we got to play a real trumpet! It took a great deal of puff to blow it!
We have been busy with Easter craft activities this week. We all painted our own Easter egg. We would like to wish you all a very Happy Easter.
Watch the slide show and see if you can spot the egg you made?
Science Week
We found out what happens to bubbles when they land on different surfaces.
Our Science week got off to an exciting start! We are looking forward to seeing how the chicks grow and change.
Happy Chinese New Year
We have been learning about Chinese New Year. We were very lucky that some parents were able to come into class to talk about how they celebrate Chinese New Year at home. They also did some Chinese writing with us and helped us to make some Chinese lanterns and red envelopes, which are a sign of good luck. We would like to wish you all a very happy Chinese New Year.
We have been very busy in our fabulous mud kitchen. We decided that we needed to make some cakes to sell at the Bake Sale! We added ginger, curry powder, lavender, basil leaves and oregano leaves to our pies! We greatly welcome any donations of herbs or spices to use in our mud kitchen!
This week, we have been exploring measure, using different sized containers in the sand and mud. We have also been making our own potions and pies in the mud kitchen, learning how to use a pestle and mortar. Our woodwork project has started, after spending time learning how to keep safe whilst using real tools. We have started to display our work by hanging them up on a line and writing a label for them. Please come and have a look at them!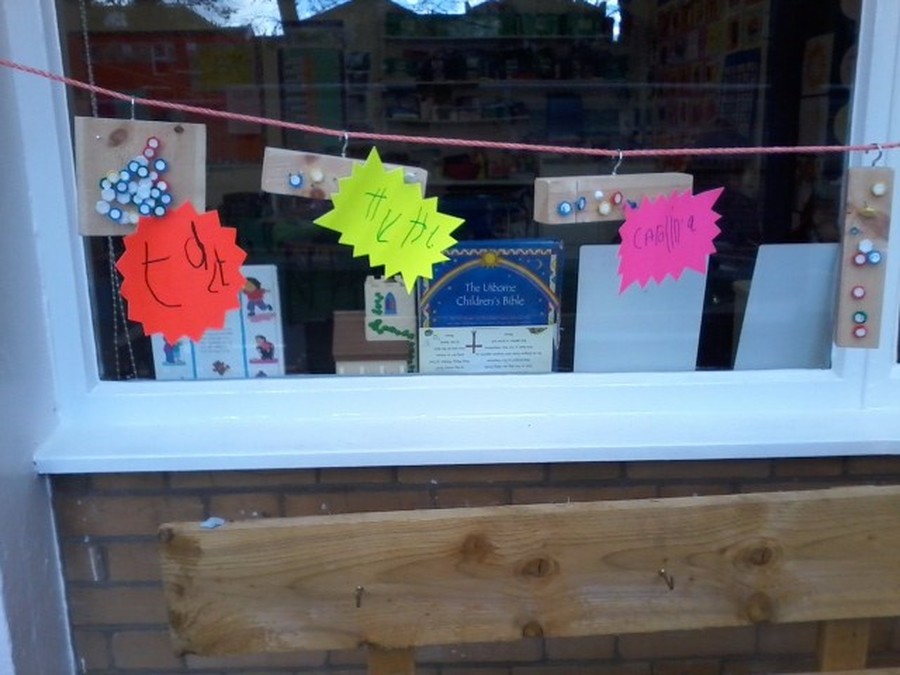 Diwali in Reception
We have been looking at the festival of Diwali. We were very lucky to have a special visitor, who shared some of her very special Diwali decorations, lights and sweets. We also did some Indian dancing in traditional costumes and made some coconut Indian sweets.
We have been learning how to ride our bikes safely on our new bike track. We all had driving lessons and then we all had to take a test! We have now all passed our test and have our very own driving licence. Some of us have been given speeding tickets by two policeman!
We have made a new garden in our outside area. We helped plant all the new flowers and trees and are busy looking after it. We have been watering it using the hose. We cant wait for the tress to start producing apples and pears!
During our Art in Nature work, we started off by looking at patterns.We talked about what a 'pattern' is and how we can make them. We then looked at the work of Andy Goldsworthy and made our own sculptures, using the natural materials we had collected at home.
Reception Team:
Miss Winn - Gruffalo Class Teacher
Mrs Dhinsa - Elmer Class Teacher
Mrs Weddell- Gruffalo Nursery Nurse
Miss Haugh - Elmer Nursery Nurse
Information on phonics and fun games to play.