WELCOME TO YEAR 6
Year 6 Team:
Ms Marshall- Teacher
Miss Merrell - Teacher
Ms Matassinni- Teaching Assistant
Learning Support Assistants- Mrs Chrysanthou, Miss Barry, Mrs Murphy
Summer 1 Curriculum Information 2019
Summer curriculum information is now available on the Year 6 curriculum information tab.
Please take a look to find out what we will be learning about this half term and how you can best support your child at home.
Our Hilltop Adventure 2019!
Wonder and Kindness
During Friendship Fortnight, the children in Year 6 watched the film 'Wonder' based on the book by RJ Palacio.
They thought about the importance of kindness and the idea that we must never forget that everyone is fighting their own battle. Children were inspired to paint their own rainbow-style portraits. They included the kindness quotes that most resonated with them.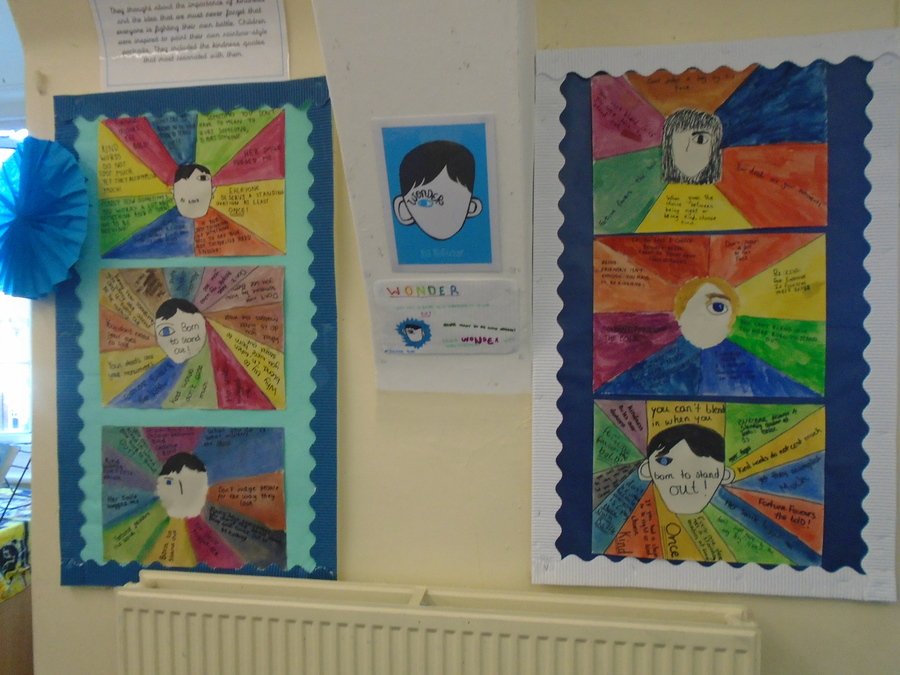 OLM Gets Physical!
As part of our "OLM Gets Physical Week", on Monday 8th October 2018, 'Burn the Floor's' Latin & Ballroom professional dancer 'Simone Arena' came to Our Lady of Muswell to teach Latin & Ballroom dance workshops throughout the day for all Key Stage 2 classes.
Wider Curriculum: World War Two
Last week saw the start of our World War Two topic in history. After lunch, we returned to our classrooms and were immediately transported back to The Blitz! We heard air raid sirens and had to take shelter under tables in our classroom as quickly as possible. We used this experience as inspiration for writing as if we were alive at the time. We compared the experience to other historical events, both in London and across the world.
Wider Curriculum: Art and DT
This week we have begun to answer the question: How can we design our own font?
We looked at the origin of different fonts and typefaces and then learned about a font called 'Skinny Fringe'. We used special grid paper to recreate letters from the 'Skinny Fringe' alphabet.
'This is Me' artwork
For our first art lesson we thought about how we could show who we are using mainly images and symbols. We learned how to blend oil pastels correctly to create tone and created our 'This is Me' sketchbook work.