Sports Day
Year 1 had a great day on Friday morning taking part in sports day. The children were really supportive of each other and enjoyed cheering each other on during each race. Well done Year 1!
Year 1 trip to the Royal Gunpowder Mills
Today Year 1 visited the Royal Gunpowder Mills in Waltham Abbey. We got to go on a wildlife hunt around the grounds to see the variety of wildlife that live there. Some of us were even lucky enough to see the wild deer! The children also got to make their own owl mask to take home. We had a fantastic day and some of us are very tired now! Take a look at our photos from the day.
Spirituality Week
Year 1 started our Spirituality Week by visiting the drama studio to pray at six different prayer stations. We all had the time to reflect on the things happening in the world and pray for others. Take a look at some of our pictures from the morning.
Trip to Tesco
To help support our wider curriculum work learning about food, Year 1 went on a trip to Tesco this week. While we were there we learnt about healthy foods, went on a fruit and vegetable hunt to find fruit & veg of different colours and then we went to look at the cereal and how much sugar they contain. At the end we had a healthy snack. We didn't realise we could have so much fun in a supermarket.
Book Week
We have had so much fun celebrating book week. This week we have enjoyed listening to Polly Faber, OLM's Pet Author when she visited to talk to us at assembly. Y1E were also lucky enough to have Isabel's mum come in to share a story in Polish, which linked nicely to our International Week's learning about Poland. Year 1 also visited the reading stations in the drama studio led by Year 6 where they got to make and take home a bookmark.
Y1 Phonics workshop for parents
Thank you to those of you that came to our phonics workshop this morning. We hope you found it informative. The slides of information used in the session can be found on our curriculum information page. We will also send home a list of words previously used in the phonics screening so that you can use these with your child.
Summer term Curriculum Information
Our Summer term curriculum information is now available on the Year 1 curriculum information tab. Please take a look to find out what we will be learning about this term and how you can support your child at home.
Edible Plants
Our Science topic this half term is 'Edible Plants'. We have been talking about what edible means and then we planted our own edible seeds which we will take care. We have planted the following; tomato, spring onion, rocket, radish, lettuce, cucumber and potatoes. We will take care of these and hope to be able to try some of our own grown food when they are ready.
Irish Dancing
To celebrate St Patrick's Day, Year 1 took part in an Irish dancing workshop. We all had so much fun watching videos of Irish dancers and then trying to recreate the moves!
Y1 sewing workshop
Thank you to all the grown-ups who came into school yesterday afternoon to help the children make their puppets. We had a huge turnout of parents, carers, and governors all helping the children, and each child has produced a wonderful puppet that they are proud of. We are not sure who had more fun, the children or the adults!
Steven Lenton Visit
Year 1 and 2 were very lucky this week to receive a visit from the author Steven Lenton. He shared his new book 'Let's Find Fred' and the children all got to take part in a live drawing session. We all had a great time!
Chicks
Year 1 have had fun visiting our special visitors this week. We all got to look closely at the chicks who had hatched from their eggs and listen to them chirp! We then came back to class and wrote about the life cycle of a hen. We can't wait to visit them again soon to see how many more have hatched.
Health Awareness Week
In class we have been looking at the foods we should eat to have a balanced diet. We talked about the foods we liked and how much we should be eating.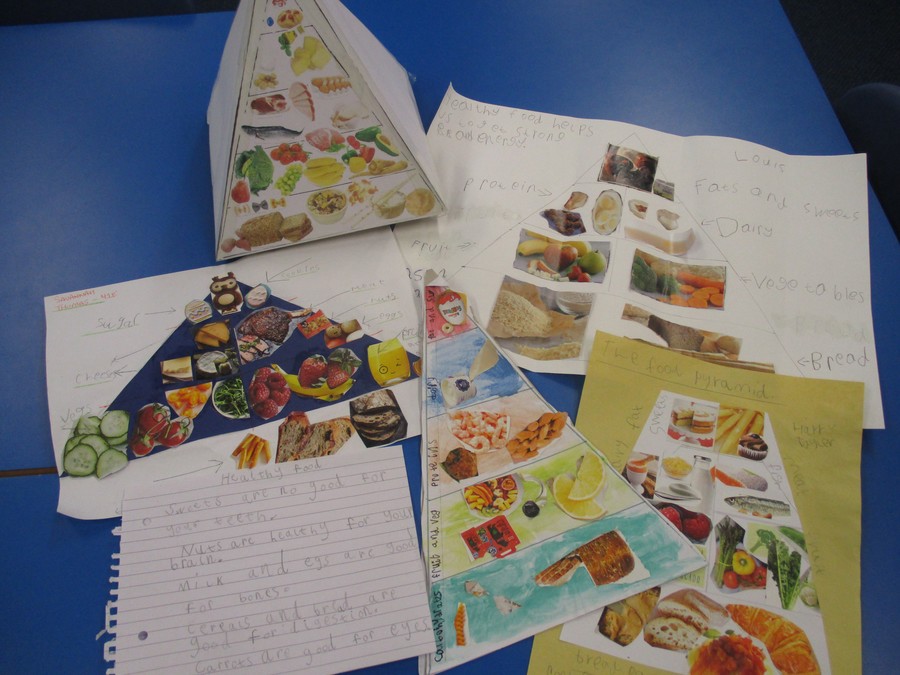 Love of Reading
At OLM we are continually working on developing a love of reading. To support this Year 1 met up with their Year 6 buddies to spend some time reading and sharing books.
Year 1 Team:
Miss Haugh - Teacher
Miss Evans - Teacher
Miss Daly - Teacher
Mrs Murray - Teaching Assistant
Mrs Farrell- Teaching Assistant